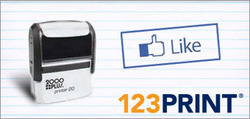 It would be really cool to be able to say I liked or disliked something that was beyond the social network.
Frederick, MD (PRWEB) July 15, 2010 –
Anyone who spends any time at all on social networks like Facebook has seen, and probably used, the functions of Liking something to it give a vote of confidence and follow along with it and Disliking it to give it a thumbs down. Try as some people might, there are actually times when they need to leave the social networks behind and interact in the real world. After suffering fits of social network withdrawal, some clever folks at online printer 123Print.com asked the question of why they couldn't bring the fun and simplicity of Like and Dislike to the world around them?
Turning to some of the very products they make every day, the crew at 123Print created labels and rubber stamps inspired by the Like and Dislike buttons and icons that have taken over the social networks. Originally created for and used by a few social diehards at 123Print, the idea behind the Like and Dislike stamps and labels spread throughout the company and now 123Print has figured out a way to share the Like and Dislike love with the world in a way that won't break the bank for consumers.
"In the middle of going between serious work and serious social network time one evening it hit me that it would be really cool to be able to say I liked or disliked something that was beyond the social network" said Peter Backman, Senior Director of User Experience (and chief nerd in residence) at 123Print.com. "So I created the designs, uploaded them to our self-inking stamps and labels and within a day the office was all over them and they were all over the office. Besides the obvious side effects of dealing with the angry maintenance guys, we all thought these were just too fun to keep to ourselves."
The Like and Dislike rubber stamps are high-quality, self-contained, self-inking stamps like all of 123Print's Mini Address Stamps and feature blue ink for Like and red ink for Dislike. Labels come in rolls of 500 just like 123Print's address labels; printed in blue and black for Like and red and black for Dislike. Both are compact and easily portable to allow on-the-go, real-world liking and disliking.
The products can be viewed and ordered from 123Print online at http://www.123Print.com/Like-Dislike. As an added bonus to celebrate the roll out of the new stamps and labels, 123Print is offering them free of charge except for shipping while supplies last through July 31, 2010 when the discount code LDFree is entered in the shopping cart.
For further information about 123Print and its products including new Like and Dislike stamps and labels, or to arrange for an interview, photos or samples, contact Rich Scotti.
About 123Print.com
123Print.com is one of the web's fastest-growing resources for custom-printed, full-color business cards, postcards, marketing materials, personalized business stationery, invitations and more. Featuring professionally-designed templates and intuitive online design tools; 123Print has helped hundreds of thousands of businesses and individuals achieve success by expressing their uniqueness with easy-to-create, budget-friendly, high-quality, on-demand digital printing.
# # #