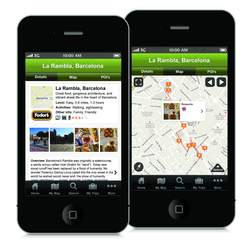 EveryTrail's detailed, media-rich, interactive, and location-aware Guides can be synched with mobile phones with a one-click download.
Palo Alto, CA (PRWEB) July 20, 2010
EveryTrail, the leading online and mobile travel app, announced the general availability of EveryTrail Guides, which are interactive travel itineraries that tens of millions of users can now purchase, either within the EveryTrail iPhone application or online.
EveryTrail Guides solve a major problem for travelers today: while there is no shortage of travel information available online, it is almost impossible to take that information along on a trip, except with cumbersome workarounds such as printing or emailing web pages. In contrast, EveryTrail's detailed, media-rich, interactive, and location-aware Guides can be previewed online and elegantly synched with mobile phones, including iPhones, with a one-click download.
Founder and CEO Joost Schreve said, "Travelers' needs are different when they are on-the-go then when they are planning their trips, and we have taken those differences into account to deliver a specially-designed experience for each stage of the travel process: planning, doing and sharing."
EveryTrail Guides range from the world's best city walks, such as a stroll along La Rambla in Barcelona, and the Brooklyn Bridge in New York, to family-friendly trips in Boston, all the way to great, outdoor adventures like hiking Half Dome in Yosemite National Park. New Guides from all over the world are being added every day.
EveryTrail Guides are published, distributed and sold through an innovative marketplace that enables travel content owners ranging from individuals to the world's foremost travel publishers to effectively monetize their travel expertise. Launch partners include leading brands in travel, outdoor, lifestyle, media and education.
Fodor's, one of the most widely-recognized and respected brands in the travel industry, has contributed editorially recommended international city walks. "Fodor's is thrilled to partner with EveryTrail to bring the content for which Fodor's is known to the iPhone," said Tim Jarrell, Publisher of Fodor's Travel. "We are excited to engage with travelers on this immediate and individualized platform—an opportunity enabled by EveryTrail's web and mobile technology." Trailspotting is a travel site dedicated to the great outdoors. Stuart Green, founder of Trailspotting, said, "EveryTrail Guides provide a spectacular channel for the hiking recommendations that my followers have come to know and love. Now they can take my Guides with them on their smartphones." KQED is a leading PBS and NPR affiliate based in Northern California. "Our partnership with EveryTrail on the QUEST project is helping to fulfill our multi-pronged mission of education, community engagement, and technical integration of multi-media: web, phone, radio and TV," said Craig Rosa, Senior Interactive Producer, KQED. "We are excited about the public dialogue around QUEST Guides that is already underway."
EveryTrail members are sharing their trips on EveryTrail.com at a rate of 1,500 per day, and the company anticipates Guides to further stimulate that activity. Said Schreve, "Our users have come to rely on each other for great suggestions, images, videos and travel stories, and Guides enable both the democratization and polished packaging of that same active engagement. Individuals and professional publishers are all welcome to contribute to the Guide marketplace, which is now open for business."
About EveryTrail and GlobalMotion Media
The next generation EveryTrail iPhone and Android apps let users search, download, navigate and share trips while on the go. Users can explore hundreds of premium Guides and more than 300,000 user-generated trips from over 140 countries. At the same time, travelers can record and instantly share experiences on EveryTrail and other social sites, such as Twitter and Facebook. The company is headquartered in Palo Alto, California and is online at EveryTrail.com.
###