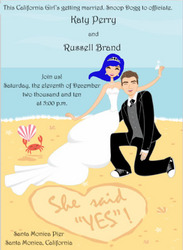 You don't have to be a celebrity to have truly unique, custom wedding invitations.
Fort Lauderdale, FL (PRWEB) July 19, 2010
To honor wedding season, currently in full bloom, Storkie Express has unveiled a flurry of new wedding invitation designs on their website. The online purveyor of wedding invitations and bridal shower invitations is highlighting its expanded collection with a fun celebrity wedding invitations campaign, showcasing Storkie's customization options by personalizing wedding invitations for this year's top A-list couples.
"Our new wedding invitations are stunning. We have been hard at work adding new and exciting wedding designs that are sure to impress," explains Rachel Smith, blogger and designer extraordinaire at Storkie Express. "The new designs are completely customizable, from color combinations to wording, fonts to layout styling. You don't have to be a celebrity to have truly unique, custom wedding invitations."
The celebrity invitation campaign highlights just how easy it is to personalize these wedding invitations. Storkie chose ten of the hottest in-the-news celebrity couples to showcase, and designed fictional celebrity wedding invitations for each one. "These are the top celebrity couples Storkie thinks are headed down the aisle in the coming year," says Smith. "Who knows – maybe they will see our designs and be inspired!"
Storkie.com features iDesign, a revolutionary customization tool, which gives users the freedom to completely personalize their wedding invitations. "For many of our wedding invitations, there is no limit to what you can customize. Couples can choose different fonts, adjust the wording, and choose from different design elements such as color combinations or graphics. Couples can even add their own pictures," says Smith. "The best part of iDesign is the instantaneous preview, so you know exactly how your wedding invitations will look before you order them, and without having to wait weeks for an initial proof!"
Check out Storkie's celebrity wedding invitations.
About Storkie:
Storkie Express is a web-based invitations company, providing customers with quality, affordable, custom printed invitations since 1990. Storkie Express has a broad selection of beautiful invitations and cards for every special event. With extensive collections of baby shower invitations, graduation party invitations, wedding invitations, bridal shower invitations, birthday invitations, and much more, Storkie is sure to have the perfect announcements for any event. Storkie's iDesign makes personalizing an invitation easy and fun, while professional typesetters review each and every order for that extra quality assurance. At Storkie Express, customers can easily design and order beautiful, high-quality printed invitations at the best prices and with the fastest turn-around time in the industry.
# # #