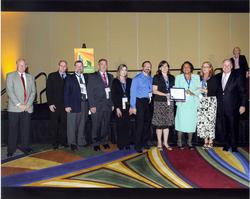 Harrisonburg, VA (PRWEB) July 16, 2010
This prestigious honor was awarded in Washington DC at the annual Employee Stock Ownership Plan (ESOP) conference by the association's president, J. Michael Keeling. Mr. Keeling gave effusive and warm words of appreciation for ComSonics' long term commitment to the values that ESOPs provide to each employee and their surrounding communities. Approximately 400 people representing ESOPs from across the country attended the conference and responded with a loud cheer when the ComSonics name was announced.
ComSonics has been a long standing contributor to the ESOP concept spanning 35 years – making ComSonics one of the oldest in the country. This award serves as a public recognition and testament of how employee ownership can make a positive impact in the workplace. ESOPs provide a mechanism for employees to become partial company owners and gain equity for a retirement plan that is governed by The Employee Retirement Income Security Act (ERISA). These retirement plans create company loyalty as well as long term financial benefits to their participants.
According to Susan J. Banks, Chair of the ComSonics ESOP Employee Advisory COmmittee (EAC), "As we celebrate our 35th anniversary as an ESOP company, the recognition of ESOP Company of the Year is the perfect gift we could receive on behalf of all our employee-owners at ComSonics. Our commitment to ESOP is founded on the principles of support, education, and promotion. With this award, our employee-owners, customers, and vendors will know our dedication and commitment to the ESOP concept".
ComSonics, headquartered in Harrisonburg, VA, has been a leading innovator and manufacturer of test and measurement solutions for the cable broadband industry for the last 40 years. ComSonics has a strong services component to its business that includes world-class customer service, Repair services for broadband cable equipment with multiple locations across the US, and a nationwide NIST-based Mobile Calibration service. In addition, ComSonics has a contract manufacturing business, CEMSI, that is a fully automated manufacture of electronic equipment for a wide range of products.
###