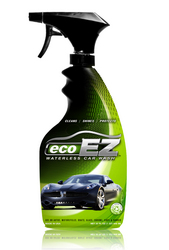 You shouldn't have to pay more to be green.
Los Angeles (PRWEB) July 16, 2010
Launching a new product during a recession and on the first day of a heatwave might seem like bad timing, but ECO EZ WASH, a patented all-natural waterless car wash, offers an affordable way for auto owners to help save the environment while saving cold, hard cash.
With a nationwide launch with direct response campaigns on the Discovery Channel, the National Geographic Channel, Planet Green and Universal Sports, ECO EZ WASH is an all-natural, all-in-one car care solution that is the first eco-friendly product to be showcased in an infomercial. ECO EZ WASH is a breakthrough in green technology. Its patented formula is safe to use on all exterior surfaces, leaving windows, mirrors and tires with a showroom shine for less money than a burger and fries. Not only will this revolutionary formula wash a car while saving billions of gallons of water, it's also proudly made in the USA. Auto owners will feel great about having a clean car — and feel even better for making a green change for the better as well as supporting American innovation made by Americans.
"The ECO EZ WASH system is biodegradable and will not harm the environment," a ECO EZ spokesperson said. "Other waterless car washes have been around for years, but many of them are made from petroleum distillates. The few that can be considered all-natural are expensive. ECO EZ WASH can clean an entire car for less than $2.50. You shouldn't have to pay more to be green. ECO EZ WASH is nothing short of a revolutionary car care product."
ECO EZ WASH was also formulated and is made in the United States. The company is proud to do its part in creating jobs and helping the economy recover.
Washing a car at home wastes about 140 gallons of water and the toxic runoff enters the waterways. Professional car washes damages paint and grinds in dirt and debris, leaving fine scratches in the paint when a sponge or chamois is used. ECO EZ WASH encapsulates dirt and lifts it from the car's surface which is swept away and trapped by a microfiber towel, making it superior to water washes, the spokesperson added.
"ECO EZ was founded to help the planet by changing the way people washed their cars," the spokesperson said. "Water rationing is becoming the norm for many major cities across the country but there's nothing more American than washing the car in the summer. But there's no reason why we can't wash the car, help do something for the environment and save some money.
"So let me ask you — what are you doing this weekend?"
About ECO EZ:
ECO EZ aims to make being green inexpensive, to bring new and innovative products to the market that are better than their conventional counterparts and that leave a smaller ecological footprint. The company aims to enter the retail market with a lineup of green and affordable cleaning products and is open to new business opportunities. For more information visit http://www.ecoezwash.com
# # #