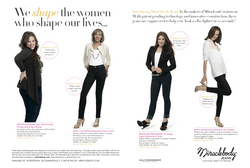 "These are really incredibly inspiring women" - Robert Verdi
New York (PRWEB) July 15, 2010
Miraclebody® Jeans recently named four winners in their search for "Women Who Shape our Lives," and treated them to a whirlwind weekend in New York City. The contest was designed to celebrate remarkable women from all walks of life who have made a significant difference in the lives of others. The online campaign, to launch the new Miraclebody® Jeans collection, drew nearly 1000 women who were nominated by friends or family for all they have done in the lives of others by example or by giving of themselves.
The four winners are: Darlan Monterisi, a Marine Corps Captain and PR specialist from Long Island City, NY; Marla Roque-Wylie, a mother of an autistic child who works on the fight against the developmental disorder, from Irvine, CA; Megan Sikorski, a pediatric oncology nurse from Ridgefield, CT; and Mary Cole Watson, a teacher and coach from Cleveland, OH. Each came to New York City for a makeover at the Sally Hershberger Downtown Salon, a wardrobe consultation and shaping tips with Celebrity Stylist Robert Verdi, make-up by Shiseido and a photo shoot with Fashion Photographer James Macari. An ad featuring the women will appear in the August issue of People StyleWatch Magazine. Highlights of the day can be found here http://vimeo.com/12426753.
"These are really incredibly inspiring women. They are not famous women, they are not rich women, they are not supermodels. They are just really incredible women with amazing stories," said Celebrity Stylist Robert Verdi. "It was great to help them experience a piece of themselves, so that they feel sexy, and fabulous and can share it with others. These women deserve having something done to make them feel great about themselves since they help so many others."
"Miraclebody® Jeans were created for real women so they feel comfortable and confident, and we're so proud to be celebrating our four winners and giving them the makeover they deserve," said Sandra Davidoff, communications director for Miraclebody® Jeans. "This campaign tells the amazing stories of these women who have shaped the lives of those around them and helps them feel great about themselves."
About Miraclebody® Jeans:
The Miraclebody® collection features premium denim, tops, skirts and other shaping apparel from the makers of Miraclesuit Swimwear. They are engineered with patent pending technology and innovative construction and fabric to help the wearer "look 10 pounds lighter in 10 seconds" with comfort and confidence. The jeans are available in sizes 2 to 18 at Bloomingdales, Nordstroms, Lord & Taylor and on-line at Saks.com, Cyberswim.com and Miraclebody.com.
# # #