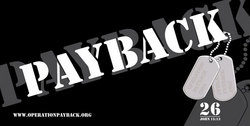 As I laid there on my back watching my brothers remove my leg from my body," recalls Gilyeat, "I vividly remember begging God for a 2nd chance at life
Lenexa, KS (PRWEB) July 16, 2010
Dan Gilyeat, disabled Marine Veteran and Purple Heart recipient puts life and Congressional campaign events on temporary hold to pursue the 26 Day Tour of Duty called "Operation Payback– No Vet Left Behind".
"As I laid there on my back watching my brothers remove my leg from my body," recalls Gilyeat, "I vividly remember begging God for a 2nd chance at life." Remarkably, Daniel Gilyeat was back on American soil and walking on a prosthetic leg just 26 days after the attack on July 3, 2005. Gilyeat credits God for expeditiously healing his wounds and has been working hard ever since to "Payback" the promise he made that day 5 years ago.
Rather than celebrating the 5 year anniversary of his Alive Day with a party, cake, and ice cream, Gilyeat chose to do something remarkable and worthwhile. Gilyeat celebrated the day by speed walking 26 miles on his prosthetic leg. Upon completion of the run, Gilyeat informed his political campaign advisors that he would continue to walk for 26 days in a row to commemorate the 26 days it took him to walk again after the attack. The number 26 also represents the 26 million Veterans in America today.
Gilyeat announced the formation of a new foundation named "Operation Payback Fund" to a crowd of 500+ people attending the "Proud To Be An American Tea Party Celebration" in Overland Park, KS.
During the 26 day tour of duty, Daniel will attempt to walk a total of 513 miles which is another special opportunity to draw attention to his favorite biblical verse, John 15:13. "'There is no greater love than this, that a man would lay down his life for his friends,' encapsulates the heart and soul of every American soldier," says Gilyeat. "My quest is to follow through on my promise to God that day on the battlefield by doing something special with my life to help others." Daniel has crafted his journey and foundation logo around this biblical verse meaning:
1 Leg
513 Miles
26 Days
Independent of his desires to run for Congress as a pro Tea Party Candidate, Gilyeat believes that he can better serve the charities dear to his heart by centralizing his efforts into his own organization. "I would love to continue to assist in the raising of funds for great charities such as Helping A Hero, Wounded Warriors, and Semper Fi Fund to name just a few," said Gilyeat. "In addition, Operation Payback will provide me with an opportunity to specifically allocate funds and resources directly to the Veterans in the area."
Daniel Gilyeat may not be a household name but millions of people throughout the world may be familiar with him as "that Marine with the one leg" who was the recipient of a home through ABC's Extreme Home Makeover nearly 3 years ago. According to Gilyeat, producers at ABC tell him that his episode was one of the all-time highest rated episodes and continues to be replayed daily throughout the world. Gilyeat is a humble man who prefers not to dwell on that gift, but only to use it as an opportunity to reach more people and thank God for yet another miracle.
To follow Daniel Gilyeat on his current 26 day tour of duty, go to http://www.operationpayback.org. To talk to Dan or schedule an interview, please contact Alex Poulter @ 913-708-0292.
###