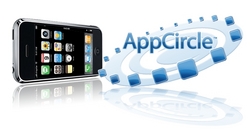 Discovery and monetization are the top two concerns among our 30,000 customers" said Simon Khalaf, Flurry president and chief executive officer. "AppCircle effectively addresses both of these problems.
San Francisco, CA (PRWEB) July 15, 2010
Flurry, Inc., a leading mobile application analytics, monetization and promotion service provider, today announced the public availability of AppCircle, the industry's first cross-selling network for mobile applications. With intense competition created by over 250,000 App Store applications, each jockeying to reach the Top 25 Paid and Free charts, AppCircle provides an effective way for developers to promote and monetize their applications regardless of App Store ranking. Since its Beta launch in December 2009, more than 450 companies have promoted and monetized apps with AppCircle.
AppCircle creates a market for developers seeking to acquire users (promoters), and application developers who want to earn incremental revenue from their applications (publishers). The service leverages an intelligent recommendation engine in combination with Flurry Analytics to recommend the right app to the right user at the right time from within participating Flurry network applications.
"Flurry's approach to solving discovery speaks directly to a pain point raised by many of our clients looking to launch iPhone applications," said Paul Gelb, Razorfish national manager, emerging media. "And because of its targeting technology, AppCircle helps companies acquire users that they'll likely retain longer."
AppCircle is built on top of Flurry Analytics, a service used by 45,000 applications on iPhone, Android, BlackBerry and J2ME platforms. At the heart of AppCircle is a recommendation engine that selects and serves the best application to consumers based on aggregated usage. As a result, consumers receive recommendations only for apps that are likely to be of high interest. This creates an efficient marketplace where publisher conversions are high and promoter acquisition costs are low. AppCircle is designed to be self-service allowing any company to get started immediately.
"Discovery and monetization are the top two concerns among our 30,000 customers" said Simon Khalaf, Flurry president and chief executive officer. "AppCircle effectively addresses both of these problems. AppCircle charges for acquired customers not clicks, and app publishers further monetize their audience in a way that compliments any business model."
Application developers can use AppCircle as publishers, promoters or both. As publishers, developers integrate Flurry into their applications, enabling Flurry to serve targeted application recommendations to their consumers. Publishers earn 60% of the price promoters pay for each app download. As promoters, application developers create campaigns and set bids on how much they are willing to pay for a new user. Flurry's recommendation engine will match relevant promoter apps to display in publisher apps, and then use bidding to rank the order in which impressions are shown.
Integrating Flurry AppCircle is flexible for publishers. The service allows several integration options including adding links to menu pages, settings pages or serving banner impressions. Publishers can also use their own virtual currency to incentivize downloads. Promoters can set up, fund and run campaigns within minutes.
Application developers who act as both publishers and promoters get the best of both worlds: revenue and downloads. Additionally, developers who join as both promoters and publishers receive a 25% credit for every dollar they earn as a publisher that is reinvested into promoting their applications, accelerating adoption and revenue generation.
AppCircle is publicly available for App Store applications and is self-service. Support for Android applications is planned for the first week of August 2010. Flurry analytics customers are encouraged to contact their account managers for help getting started with AppCircle.
To learn more about the Flurry Analytics and Flurry AppCircle, please visit http://www.flurry.com.
About Flurry
Flurry is a leading smartphone application analytics and monetization platform used by more than 45,000 applications across iOS, Android, Blackberry and J2ME. Flurry tracks over three billion end user application sessions each month.
Flurry Analytics helps developers make better applications, increase retention and grow revenue. Flurry AppCircle is an intelligent, analytics-powered cross-selling network that accelerates user acquisition for promoters and meaningfully monetizes applications for publishers.
Flurry is venture-backed with offices in San Francisco and New York. For more information, please visit http://www.flurry.com.
Note to Editors
iPhone, Android, BlackBerry and J2ME are trademarks of their respective companies. All other company and product names may be trademarks of the companies with which they are associated.
# # #