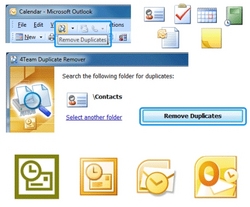 Get rid of Outlook duplicate items in just one click to ensure your Microsoft Outlook performs faster.
Pompano Beach, FL (PRWEB) July 19, 2010
4Team Corporation, a well-known software development company, announced the release of its latest version of Outlook Duplicate Remover software. This radically new Microsoft® Outlook® add-in is a real "one-click" solution, allowing you to remove Outlook duplicates without any settings to configure.
Dealing with multiple duplicates in Outlook can be very frustrating. It may take a lot of time reading and comparing duplicate emails. Duplicate contacts and calendar events are very confusing and may cause frequent unnecessary alerts. Duplicate email messages with large attachments may cause your Microsoft Outlook to perform slower. Trying to find and remove duplicates in Outlook manually is a tedious and time consuming work. Duplicate Remover is a solution. It will save your valuable time and ensure your Microsoft Outlook performs faster.
Duplicate Remover 2.00 features include:
· One-click simple and intuitive interface making it easy to get started. No wizards to follow, no settings to adjust.
· Search for all types of duplicates and remove Outlook duplicates in just one click.
· Merge similar items automatically.
· Remove duplicate contacts and clean up your address book.
· Remove or intelligently merge duplicate calendar events
· All removed duplicates are backed up automatically to the Deleted items folder.
Duplicate Remover is compatible with latest Windows 7 and Microsoft Outlook 2010 as well as Outlook 2007, 2003, 2002, 2000 and Microsoft Exchange Server Public Folders. The price is just $24.95 per license, volume discounts available.
Search for duplicates is free, even after the trial period has expired.
Download Outlook Duplicate Remover now and try it for free.
About 4Team:
4Team Corporation is a software development company specializing in business applications and Microsoft Office add-ins. Since 1999 4Team Corporation has developed more than 30 software solutions that improve job efficiency and productivity.
To find more information about 4Team Corporation software products, please visit 4team.biz or contact 4Team Corporation Live Chat.
4Team Corporation
11555 Heron Bay Blvd Suite 200
Coral Springs FL 33076
Skype: TeamCorporation
Tel: +1 954 796-8161
Facebook: 4TeamCorporation
# # #