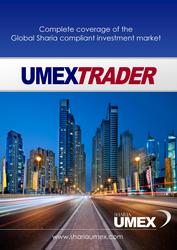 (PRWeb UK) July 17, 2010
Sharia Ummah Securities Information Exchange Ltd (ShariaUMEX) is pleased to announce the launch a new professional market participant share trading platform - UMEX Trader™.
UMEX Trader is set to become the first trading platform to offer institutional investors with the ability to view the entire universe of Sharia compliant securities for each of the world's main markets. The system provides a fast, easy to use and transparent method for institutional clients and wealth managers to trade in over 10,000 Sharia compliant securities from around the globe.
UMEX Trader has been developed in conjunction with leading financial technology providers Infront and Ullink. The platform has advanced algorithms and cutting edge technology; this powerful tool will enable clients to trade a wide range of investment products via a user-friendly interface within a secure environment. The interface provides the user with real-time quotations and the ability to immediately execute trades.
The platform integrates shares in companies that have been screened to ensure that they are Sharia compliant. The screening process is run by Arimi Capital using their proprietary screening process Amiri S3. The screening methodology uses a process that analyses financial ratio tests and business activity criteria.
The platform also includes the ability for clients to search and filter by region and then by individual markets, making it simple to find and trade the desired investment. In addition, customised 'watch lists' of securities can be created by the user to monitor price movements for composite lists of shares from multiple markets to help them make informed decisions before they trade.
"The community of traders, fund managers and their clients who want to invest ethically in accordance with the principals of a value system and particular faith has become too large to ignore. ShariaUMEX specifically addresses the needs of the Sharia investment community by putting together various technologies and services in a new way, resulting in a significant value add for these clients and a market leadership position for ShariaUMEX.
Infront is delighted to have been chosen by ShariaUMEX to deliver the customized user interface (UMEXTrader) as well as trading capabilities. The Online Trader platform is flexible enough to adapt to the needs of the Sharia investment community in a relatively short period of time. Infront technology, coupled with the unique product offering ShariaUMEX is providing together with other industry partners will make UMEXTrader a huge success." said Mr.Jonathan Gewirtz of Infront.
A demonstration version of UMEX Trader will be available to download on a free trial basis from Friday 16th July and ShariaUMEX will be running a virtual trading competition during July, August and September to find the best Sharia compliant virtual trader during those months from both the global broker and fund management communities. The competition will demonstrate the platform's capabilities in a risk free environment through a simulation of trades that are made using real-time transaction data.
Full details of the competition will be released shortly on http://www.shariaumex.com - leagues table of virtual traders will be published on the ShariaUMEX website on 31st August 2010.
Following the competition, the live platform will be launched on 1st September 2010, with additional UMEX products including a trading platform for Sharia compliant structured products (UMEX Liquid) scheduled for launch later this year.
Further information about ShariaUMEX and UMEX Trader are available from the ShariaUMEX website http://www.shariaumex.com.
Enquiries should be addressed to :
Simon Kiero-Watson (CEO ShariaUMEX)
Tel:  + 44 (0)845 193 0142
###