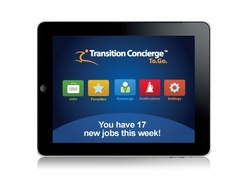 Every day, RiseSmart looks for new ways to help displaced workers find jobs faster – and that includes delivering the latest job leads and job-search tools to mobile devices with Transition Concierge To-Go
San Jose, CA (Vocus) July 15, 2010
RiseSmart, a leading provider of next-generation outplacement and recruitment process outsourcing solutions, said today that Transition Concierge To-Go™, its outplacement mobile app for laid-off workers, has been optimized for the iPad. iPad users may access the Transition Concierge To-Go web app at ipad.risesmart.com.
"Every day, RiseSmart looks for new ways to help displaced workers find jobs faster – and that includes delivering the latest job leads and job-search tools to mobile devices with Transition Concierge To-Go," said Sanjay Sathe, founder and CEO of RiseSmart. "RiseSmart's consistent focus on innovation has energized the $3 billion outplacement space and earned Transition Concierge™ a growing roster of Fortune 500 clients."
Transition Concierge To-Go, which arms workers with personalized job leads and a variety of other job-search resources, is free to eligible employees of companies who use RiseSmart's Transition Concierge as their outplacement solution. RiseSmart currently has several thousand employees in the system who can begin accessing the app from their iPads right away.
The application sends relevant job opportunities directly to workers' iPads, enabling them to see the latest job leads that match their skills and preferences; tag jobs they like for follow-up; send themselves a reminder to take action on a job lead; review notifications for job-related Webinars and networking events; contact a RiseSmart Transition Specialist via phone or e-mail with feedback; review preferences, settings, favorites and more.
The application went live for BlackBerry devices in April and for the iPhone last month. A version for Android-based phones will be available in the coming weeks.
About RiseSmart
RiseSmart provides next-generation outplacement and recruitment process outsourcing solutions. The company leverages a common technology platform, proven methodologies, and one-on-one support to help employers with their workforce strategy, and displaced employees with their career strategy. RiseSmart drives significant ROI to organizations by offering affordable pricing, reducing severance costs and unemployment taxes for outplacement services and reducing cycle time and cost of hire for recruiting services. For more information, visit http://www.RiseSmart.com.
Contacts:
Scott Baradell
RiseSmart
972.235.3439
sbaradell(at)risesmart(dot)com
http://www.RiseSmart.com
RiseSmart, the RiseSmart logo, Transition Concierge, Transition Concierge To-Go, Recruit Concierge, Talent Assurance, Job Assurance, SmartConsult, SmartSource, and Transitioning Talent. Changing Lives. are trademarks of RiseSmart, Inc. All other trademarks are the property of their respective owners.
###