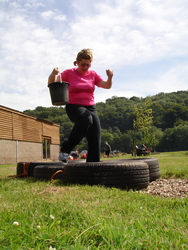 (PRWeb UK) July 16, 2010
FitFarms has developed a successful niche in the weight loss/health and fitness camp markets by doing the opposite of the celebrity-backed boot camp and carefully working with people to achieve sustainable weight loss and personal health goals.
Sandra Ellis from Cornwall who went through the FitFarms weight loss retreat week-long programme in November said, "FitFarms has made me look at my health in a different, healthier way. As a teenager, I suffered from bulimia so I have always had a bad attitude to food, whether for comfort or celebration, food was always my main partner in life. Through sensitive support from the retreat on nutrition and in their exercise workshops I have re-evaluated my relationship with food and my body. I now know that the way to sustainable weight loss and good health is about a new way of life – exercise and the 80/20 rule is the way forward!"
FitFarms weight loss boot camp based in Exmoor and the Peak District started in January 2007 with over 2000 women passing through the retreat, to date. It is a week-long residential course for women where they don't use military style methods or celebrity trainers, but personal trainers, exercise specialist and nutritionists. The fitness camp programme is suitable for all ages, sizes and fitness levels. The day starts at 6.00am and usually finishes at 9.00pm. Typically, this includes continual exercise, for example, circuit training, yoga, biking, swimming, jogging, a hike on the moors, abdominal blast, salsa dancing and tai chi. Even the workshops are usually carried out on gym balls!
The exercise is balanced with professionally prepared and nutritionally sound meals that will help you lose weight, and encourage you to start cooking and creating food that will keep you healthy and happy.
"People come to us because they don't want to be bullied, or pampered or made to feel like they have to live up to some celebrity ideal of body and image. We help them to assess what they want to achieve and how best to do it through varied exercise and proven nutrition" says Stephen Cole the course Director.
FitFarms is the modern Fat Camp and is making a difference because it gets away from the 'boot camp' style which may only be a short-term fix and the clients are given positive motivation and guidance to achieve long-term health goals and sustainable weight loss management. This is followed up by a free membership to the FitFarms forum where clients receive continued Life Coaching support post course.
A week long residential stay at FitFarms starts at £945 which includes accommodation, meals and all activities. For further details please visit http://www.fitfarms.co.uk or call 0800 634 3070 for more information.
# # #