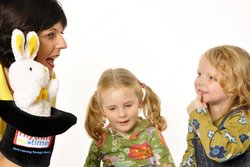 Rhythm Time is a great job to have with a young family.
(PRWeb UK) July 27, 2010
With the summer holidays here, and the start of a new academic year in September soon upon us, this could be the perfect time to think about a new career where you can work with children.
If you have a passion for music and would love to work with children, a Rhythm Time Franchise could offer you a wonderfully satisfying and life-changing career change.
Vicky Taramasco joined Rhythm Time as a Franchisee after spending many years as a nurse in the NHS. "I had come to the point in my career where I had reached all my goals and having spent some time researching all the music franchises around, I knew Rhythm Time was the one for me as it outshone the others tenfold" says Vicky.
Franchising is attractive for many reasons – the main one being security. It's a ready-made business with a good support network, a proven operating system and a well-established brand. So if you want to work with children, this is the perfect opportunity.
Rhythm Time was founded 15 years ago by Kathy Doolan who is a firm believer in the power and importance of music for babies, toddlers and pre-school children. "Franchise ownership is more affordable than people think" Kathy says. A Rhythm Time music franchise is fun, flexible and fits around your family commitments. It has given many people from all sorts of backgrounds, the chance to own their own business and change their career at the right time in their life, for example when their children go to full time school."
The company is a proven success as research shows that babies need to have all their senses stimulated. Rhythm Time's music classes for babies aim to stimulate vision, listening and sense of touch by using songs, percussion instruments and a wide range of sensory activities.
At Around 15 months,music classes for toddlers offer a completely new set of courses created to help a child's confidence, creativity and co-ordination.
"Children who take part in music develop higher levels of social cohesion and understanding of themselves and others, and the emotional aspect of musical activities seems to be beneficial for developing social skills like empathy" says Dr Alexandra Lamont, Lecturer in the Psychology of Music at the University of Keele.
From three years, music classes for pre-school provide an ideal preparation for going to school. Music notation is introduced to the children and they learn to recognise a variety of musical signs. They listen to brass, woodwind and string instruments and learn to conduct the class band!
"Owning a franchise was suggested to me by a friend as I had always wanted to continue to work with children and I was a 'people person'. Rhythm Time is a great business to have with a young family. You can be around during the daytime and do paperwork at night when they're in bed" adds Vicky.
Rhythm Time is a family owned business and continues to grow from strength to strength. So if you love music and want a career where you can work with children, talk to Kathy about Rhythm Time's fulfilling franchise opportunities on 0121 711 4224, rhythmtime@rtfg.co.uk.
Words 530
Information For Editors
Rhythm Time
76 Beechwood Park Road
Solihull
B91 1ES
Telephone: 07813 831516 / 0121 711 4224
Rhythm Time was started in Solihull in 1995 by Kathy Doolan. After a very successful five years, Kathy decided to franchise the business in 2000.
Rhythm Time now has franchises all over the UK, operating in 181 areas with approximately 10,000 children attending classes.
Rhythm Time offers three age-appropriate classes for babies (birth to 15 months), toddlers (15 months to three years) and pre-school (three to school age).
Children come to Rhythm Time as tiny babies and progress to toddler and pre-school classes, enjoying a wonderful introduction to music.
All the courses have been created by Kathy, who trained at the Royal Scottish Academy of Music & Drama in Glasgow.
Kathy previously was head of music in a Scottish school and shares with all franchisees and teachers a real passion and belief in the importance of music during a child's formative years.
Kathy is a strong believer that singing unaccompanied helps to develop a child's speech and language from an early age and this forms a key element in all the classes.
###