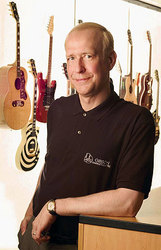 I would love to get suggestions
Nashville, TN (Vocus) July 15, 2010
Always at the cutting edge of innovation and connectivity, Gibson Guitar is pleased to announce a new forum, 4henry.gibson.com, which will allow fans to speak directly with Gibson Chairman and CEO Henry Juszkiewicz. The forum will be a venue for serious discussion on topics ranging from guitars to marketing and business ideas.
"I would love to get suggestions," said Mr. Juszkiewicz, "from how the company works to what products you would like to see from us."
The user experience on 4henry.gibson.com will be significantly better than any previous Gibson forum. Using Invision Power Board, the page promises to be cleaner and have better usability, with real-time updates and connections to Facebook and Twitter. Members also can create their own user profile pages. Gibson.com also is pleased to announce that these improvements will appear on the Gibson.com forums in the very near future.
Registration is simple. Visit 4henry.gibson.com, click "register," and fill out a membership form. Membership is free, but applicants will be asked to use their real identities and answer a few questions about musical instrument use, so that Mr. Juszkiewicz can respond more personally. Those who do not wish to join can still read the posts, though they themselves will not be able to post.
"We hope," said Mr. Juszkiewicz, "by giving you direct access to management, we can make this a company that is much more responsive to its fans, and we can bring more people into our Gibson family."
ABOUT GIBSON GUITAR:
Gibson is known worldwide for producing classic models in every major style of fretted instrument, including acoustic and electric guitars, mandolins, and banjos. The Gibson Les Paul guitar is the best selling guitar of all time and bears the name of the late, great Les Paul. Gibson's HD.6X-PRO Digital Guitar, the Gibson Robot Guitar, Gibson's Dark Fire and the new Gibson Dusk Tiger represent the biggest advances in electric guitar design in over 70 years. The Gibson Foundation is the philanthropic arm of the Gibson Guitar Corp., and dedicates its time and services to making the place a better world for children through its support of music, education, health and human services. Founded in 1894 in Kalamazoo , Michigan , and headquartered in Nashville since 1984, Gibson Guitar Corp.'s family of brands now includes Epiphone, Dobro, Kramer, Steinberger, Tobias, Echoplex, Electar, Flatiron, Slingerland, Valley Arts, Maestro, Oberheim, Baldwin, Sunshine Piano, Take Anywhere Technology, J&C Fischer, Chickering, Hamilton, and Wurlitzer. Visit Gibson's website at http://www.gibson.com. Follow Gibson Guitar at http://www.twitter.com/gibsonlifestyle and http://www.facebook.com/gibsonguitar
###