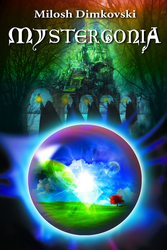 Pittsburgh, PA (Vocus) July 16, 2010
RoseDog Books is pleased to announce the publication of Mystergonia ($19.00) ISBN: 978-1-4349-9753-1, paperback. For more information, please contact RoseDog Books, at 701 Smithfield Street, Pittsburgh, PA 15222. To place a book order or to learn important information about shipping prices, tax, and our return policy, please call (800) 834-1803.
After the Milsons' house is burned down, they have no other choice but to seek help from their mysterious cousin, Carlos. He is a rich man, yet lives alone in a big house, with his servant as his only companion. What dark secret is hidden inside the house, and how do the five curious children discover the portal to another world? What must they do to find their way home? What awaits the children on their way back to reality? The secrets of "The Crystal Armour" and "The Tunnel of Ghosts" are yet to be revealed.
The moral of this book is never to give up your dreams, for only the good and persistent can win in life and find happiness; however, this is only the beginning…
About the Author:
Milosh Dimkovski was born on October 7, 1991, in Kumanovo, Macedonia. As a young man, he was fascinated by children's fiction literature and comic books, as well as movies and most popular computer games. Showing a marvelous talent for writing, it was his dream to write a book that would be both compelling and interesting, as well as to give a moral guideline to his peers. In 2006, at the age of fifteen, he already published Mystergonia in his home country, and in 2007, he finished the second sequel, Mystergonia and the Effect of Adam's Kiss. By the end of 2008, he wrote a book that touches the hearts of young people called The Beauty of Success. Milosh is presently a high school student and a rising star in literature.
###