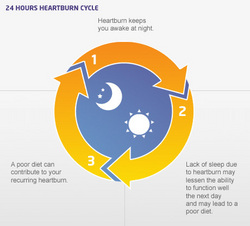 Millions of people continue to suffer the disruptive consequences of heartburn – losing sleep, giving up certain foods and being less productive at work. For these people, access to an effective non-prescription medicine is an opportunity to address the underlying cause of their heartburn
(PRWEB) July 19, 2010
Pantoloc Control is an effective new treatment for the symptoms of heartburn, acid reflux and gastroesophageal reflux disease (GERD or GORD). The medication works at the source of the problem, providing longer lasting relief.

New Pantoloc Control® provides day and night relief for adults from heartburn with just one tablet a day
Pantoloc Control® – an effective treatment for heartburn now available in pharmacies nationwide
Over 10% or 6 million people in the UK suffer from frequent heartburn. New Pantoloc Control® is a non-prescription treatment that provides heartburn relief both day and night with just one tablet a day.
New Pantoloc Control® is different from most other over-the-counter heartburn medicines such as antacids. It works by preventing production of excess stomach acid at the source for up to 24 hours, providing day and night relief from heartburn and other related symptoms.
"Millions of people continue to suffer the disruptive consequences of heartburn – losing sleep, giving up certain foods and being less productive at work. For these people, access to an effective non-prescription medicine is an opportunity to address the underlying cause of their heartburn" commented GP, Dr Mark Follows from Bradford and Airedale Teaching Primary Care Trust.
Many of UK's 6 million heartburn sufferers who currently rely on other heartburn remedies can visit http://www.pantoloc-control.co.uk to find out more about Pantoloc Control®. Pharmacists across the country, who have participated in Novartis' extensive training programme, will also be able to advise customers in store.
Pantoloc Control for the short-term treatment of reflux symptoms in adults, for up to 28 days. Contains pantoprazole. Always read the leaflet. Heartburn relief is not immediate, maximum benefit make take a few days.
Pantoloc Control® is available from the pharmacy counter in packs of 7 tablets (RRP £6.90) and 14 tablets (RRP £11.90).
Notes to Editors:
About Pantoloc Control®
Pantoloc Control® is licensed for the short term treatment of heartburn and other symptoms of acid reflux in adults of 18 years old or above. It is most suited to people who suffer from frequent heartburn (twice a week or more). The recommended dose of Pantoloc Control® is one tablet per day.
Pantoloc Control® (pantoprazole 20mg) is a highly effective treatment providing heartburn relief both day and night with just one tablet a day.
Pantoloc Control® is the first in its class of drugs (proton pump inhibitors) to be licensed as an over-the-counter medicine simultaneously across 27 EU countries (plus Norway and Iceland)
Pantoprazole, the active ingredient in Pantoloc Control®, has been on prescription for more than 15 years demonstrating excellent efficacy and safety profile
About heartburn and GORD.
Heartburn is typically described by sufferers as a burning sensation that rises from the stomach or lower chest up towards the neck and affects over 6 million people in the UK. Heartburn has a major impact on quality of life affecting sleep, eating patterns, mood and general well-being. Heartburn and acid regurgitation are the principal symptoms of a condition known as gastro-oesophageal reflux disease (GORD). Untreated GORD can affect quality of life as much as depression, heart disease and cancer.
GORD occurs when stomach acid leaks back up into the oesophagus, known as acid reflux, causes symptoms sufficient to interfere with the quality of life. The oesophagus is the tube that runs from throat to stomach. Heartburn is a frequent symptom of GORD that develops when reflux of stomach contents causes pain or irritation in the oesophagus.
Disclaimer
The foregoing release contains forward-looking statements that can be identified by terminology such as "will," "expected," or similar expressions, or by express or implied discussions regarding potential new indications or labeling for Pantoloc Control® or regarding potential future revenues from Pantoloc Control®. You should not place undue reliance on these statements. Such forward-looking statements reflect the current views of management regarding future events, and involve known and unknown risks, uncertainties and other factors that may cause actual results with Pantoloc Control® to be materially different from any future results, performance or achievements expressed or implied by such statements. There can be no guarantee that Pantoloc Control® will be approved for any additional indications or labeling in any market. Nor can there be any guarantee that Pantoloc Control® will achieve any particular levels of revenue in the future. In particular, management's expectations regarding Pantoloc Control® could be affected by, among other things, unexpected regulatory actions or delays or government regulation generally; unexpected clinical trial results, including unexpected new clinical data and unexpected additional analysis of existing clinical data; the company's ability to obtain or maintain patent or other proprietary intellectual property protection; competition in general; government, industry and general public pricing pressures; the impact that the foregoing factors could have on the values attributed to the Novartis Group's assets and liabilities as recorded in the Group's consolidated balance sheet, and other risks and factors referred to in Novartis AG's current Form 20-F on file with the US Securities and Exchange Commission. Should one or more of these risks or uncertainties materialize, or should underlying assumptions prove incorrect, actual results may vary materially from those anticipated, believed, estimated or expected. Novartis is providing the information in this press release as of this date and does not undertake any obligation to update any forward-looking statements contained in this press release as a result of new information, future events or otherwise.
About Novartis
Novartis provides healthcare solutions that address the evolving needs of patients and societies. Focused solely on healthcare, Novartis offers a diversified portfolio to best meet these needs: innovative medicines, cost-saving generic pharmaceuticals, preventive vaccines, diagnostic tools and consumer health products. Novartis is the only company with leading positions in these areas. In 2009, the Group's continuing operations achieved net sales of USD 44.3 billion, while approximately USD 7.5 billion was invested in R&D activities throughout the Group. Headquartered in Basel, Switzerland, Novartis Group companies employ approximately 100,000 full-time-equivalent associates and operate in more than 140 countries around the world. For more information, please visit http://www.novartis.com.
###