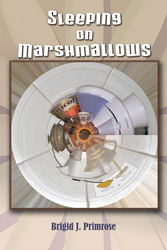 Pittsburgh, PA (Vocus) July 16, 2010
Witty, sad, perceptive, and sprinkled with wisdom are words that can only begin to describe Sleeping on Marshmallows. Encapsulated memories from childhood are interspersed with comment on human frailties as so delightfully expressed in the poem "There's Summit." Motor cars with names and personalities rub shoulders with a reverence for nature, whether it be the plight of baby birds taken by a prowling cat or a raging thunderstorm. God and fairies are regarded with equal sensitivity and family, home and pets all give us a wonderful insight into the person who is Brigid Primrose.
With such a diversity of topics, one is treated to a veto on the culinary delights and delicacies of foreign countries, to an irreverent look at "Dancing Politicians," to domestic issues such as responsibilities, ancient stockpots, and the pros and cons of town and country life and the value of a good dictionary. Passages on who we are and why we do certain things are both thought-provoking and profound.
"Window Into My Mind," the title of the first essay, really describes the content of this work as a whole for the thoughts, opinions, and anecdotes contained therein, allowing the reader a glimpse into the mind of the author.
RoseDog Books is pleased to announce the publication of Sleeping on Marshmallows ($12.00) ISBN: 978-1-4349-9833-0, paperback. For more information, please contact RoseDog Books, at 701 Smithfield Street, Pittsburgh, PA 15222. To place a book order or to learn important information about shipping prices, tax, and our return policy, please call (800) 834-1803.
###