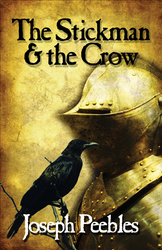 Chesterfield, MO (PRWEB) July 17, 2010
The Stickman & The Crow is an old-fashioned, fictional, in-the-woods, spook story that takes place in both colonial New York City and the mountainous regions of Connecticut during the late 1700's. This book is based upon the motion picture screenplay, "The Stickman & The Crow."
In 1534, Henry Hudson sailed into the icy, snow-covered New York harbor. He and his crew decided to make camp for the winter. They took refuge on Long Island. Within a cave, they made a once-in-a-life-time treasured discovery. Unfortunately for Hudson, greed set in. His men turned mutinous. They decided to cut Hudson out of the treasure. They set Hudson, his son, and a few loyal followers adrift in a small life boat. The mutineers made maps of the discovery and headed back to Europe. However, before they set sail, they turned against one of the mutineers. They burnt his eyes out and left him to die in the cave. The blinded mutineer was a celebrated lancer. He was befriended by a large crow.
180 years later, the maps are discovered. The blinded Pointed Stickman and his seeing-eye crow are determined to protect the cave and it's treasure.
Don't go out alone. There's something spooky in the night. Beware of the Stickman and the Crow. Boo.
To request a copy of this book for review, please contact PublishAmerica directly at: (301) 695-1707. Their direct email address is: Support (at) PublishAmerica (dot) com. In requesting a copy of the book for review, please provide your company name, mailing address and email address.
To contact the author, please email: Peebco (at) att (dot) net
To review sample chapters, please visit: http://www.PeebcoPublishing.com/StickmanBookSampleChpts.htm
For ordering information from PublishAmerica, please go to: http://www.PublishAmerica.net/product93022.html
###