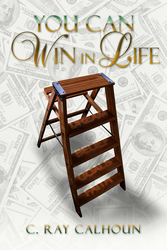 never quit, don't give up
Pittsburgh, PA (Vocus) July 16, 2010
Infused with personal life experiences, failures, and successes, You Can Win in Life is a book that illustrates the power of change and reinforces that "never quit, don't give up" attitude. It is a book written to encourage others to realize there is hope even when it seems to be the end of the road. It will be a launching pad for many to change their direction in life and to move up to higher levels of personal fulfillment. The author tells a story in a way to encourage readers to see that if he can do it anyone can. This book is for anyone interested in breaking the chains of inaction and getting out of life's rut. It is both instructional and inspiring.
"Success is not a matter of what you have acquired, but the adversities you've gone through without giving up."
About the Author
C. Ray is a successful businessman and inspirational speaker who transformed his life by embracing the ideal that life is 5 percent of what happens to you and 95 percent of how you handle it. Born in Dallas, Texas, C. Ray is the fifth of five children. He now resides in DeSoto, Texas, a suburb in Dallas. He is currently in his thirty-sixth year of marriage to his high school sweetheart, Peggy Calhoun, and they have five adult children. His own transformation motivated him to share his message of self-empowerment with others. He is a major proponent of helping people realize they can control their life's destiny, which ultimately inspired him to write this book.
RoseDog Books is pleased to announce the publication of You Can Win in Life ($10.95) ISBN: 978-1-4349-9821-7, paperback. For more information, please contact RoseDog Books, at 701 Smithfield Street, Pittsburgh, PA 15222. To place a book order or to learn important information about shipping prices, tax, and our return policy, please call (800) 834-1803.
###