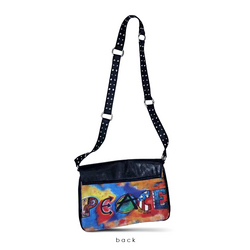 "I realized I needed to fill a void for a handbag with flair, elegance and beauty without the use of animal products," says designer Susan Onofrey
Los Angeles, CA (PRWEB) July 17, 2010
Susan Nichole Designs proudly introduces this season's fall line of handbags. Exclusively designed by Susan Nichole Onofrey in her California studio, the fall collection includes a dozen new styles, all created in 100% vegan, animal and earth friendly style. Highlights this season are The Peace Bag ($75), the Arianna ($85), the Cassidy ($85), the Natasha ($95), the Sierra ($95) and the Trinity ($75) as well as the ever popular trademark "Love" handbag ($95).
A vegetarian and animal lover, Ms. Onofrey's inspiration is drawn from her respect and love for all living things. Especially popular in the vegan and vegetarian communities, Susan Nichole handbags are a fashion statement that indicates strong support of animal rights, along with a great respect and sensitivity towards our environment.
Made beautifully, carefully and responsibly from 100% vegan, recyclable materials and absolutely no animal products, Susan Nichole handbags and accessories offer a unique style for a niche audience. "Having such a passion for handbags, I was surprised at my continuous frustration in my endless search for a designer quality, yet animal-friendly handbag," says Ms. Onofrey. "I realized I needed to fill a void for a handbag with flair, elegance and beauty without the use of animal products."
Fueled with a passion to create the designer equivalent of handbags for socially-conscious women, Susan initiated her quest and began creating stylish, elegant, timeless bags and accessories that her fans love to carry and feel proud doing so.
Social Media: An Open Conversation with Customers where Feedback drives Design
Beginning in February of this year, the company began to focus on building an online community of like-minded animal-friendly and socially-conscious women. In just six short months, Susan Nichole has amassed over 10,000 loyal Facebook and Twitter followers who routinely participate in an active dialogue around vegan, vegetarian and animal-rights issues. Key to this success has been the company's consistent giveaway/reward program, where its followers meet online every Thursday night at 10 PM/ET for a "Purse Party" where random fans are drawn to receive free Susan Nichole handbags.
In addition to traditional promotion using social media, Susan Nichole also integrates its community's feedback directly into its design process and product selection. Routinely posting photos of designs in process, Ms. Onofrey receives immediate feedback on her designs and takes it into consideration when deciding potential color palettes, material choices and other design parameters. In a very real sense, the design process has integrated a close collaboration with end customers using social media allowing fans to feel highly invested in the company and its products.
SPECIAL NEWS ITEM / THROUGH AUGUST 1st: Susan Nichole is leading the "Handbags for Hope" campaign sending aid to the 1.9 million homeless Haiti earthquake survivors still living in over 1,300 tent cities. Handbags for Hope is taking in donations of used handbags, backpacks and tote bags, filling them with personal hygiene items such as shampoo, soap, bandages, wipes, toothbrushes, toothpaste, towels and other useful items and then delivering them to the affected areas. Susan Nichole is also selling complete care packages on its website for $15 and will donate a second care package for each care package purchased.
ABOUT SUSAN NICHOLE
Animal lover, vegetarian, wife, mother and designer of high quality vegan fashion accessories for socially conscious women, Susan Nichole Onofrey and her company Susan Nichole Designs have been dedicated to providing 100% recyclable, earth friendly designs made from vegan materials since 2004. Passionate about fashion and socially aware, Ms. Onofrey's designs are eagerly anticipated by her loyal following of fashionistas in the niche vegan and vegetarian communities. As her feel-great handbag lines are worn with pride, they are becoming increasingly popular through traditional and new media. Susan Nichole will be introducing additional vegan fashion items in 2010. Stay tuned!
Facebook: Susan Nichole Handbags
Twitter: @SusanNichole
Blog: http://www.susannichole.com
# # #