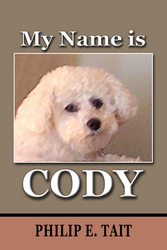 Pittsburgh, PA (Vocus) July 16, 2010
This book is about a Bichon Frise named Cody. This is Cody's life story, told by Cody through the eyes of his master. Of course, Cody cannot speak for himself; however, through a tight bond with his family and his body language, the author demonstrates the ability to be able to translate Cody's actions into words to attempt to tell Cody's story as he himself might tell it. This story is based on factual information from the family of Cody as the events took place. This book has been written for the entertainment of the reader, with the intention of showing the reader the importance of the bond between people and their pets.
This story takes you from the time Cody is adopted at eight weeks old up until his current age of eight and a half years old, and it depicts all the most important parts of Cody's life up to this point. It also shows you Cody's personality and how it changes as he gets older.
RoseDog Books is pleased to announce the publication of My Name is Cody ($9.00) ISBN: 978-1-4349-8008-3, paperback. For more information, please contact RoseDog Books, at 701 Smithfield Street, Pittsburgh, PA 15222. To place a book order or to learn important information about shipping prices, tax, and our return policy, please call (800) 834-1803.
###