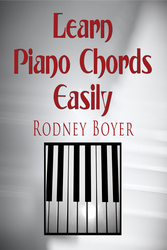 Pittsburgh, PA (Vocus) July 16, 2010
For decades studies have cited left-brain and right-brain modes of thinking, the left offering analytical and objective dimensions, while the right lending intuitive and subjective dimensions.
Educational theory would roughly characterize the former as verbal tendencies and the latter as visual tendencies. In piano instruction, as in any other subject, learning will be greatly enhanced by the provision of visual cues.
Learn Piano Chords Easily, a photographic montage, breaks down barriers to the often-difficult task of reading music. Major chords, minor chords, and diminished chords are covered in this book.
About the Author
Rodney Boyer is a retired employee of the Dupont Company in Wilmington, Delaware. He worked in the textile and plastic plants in Dupont's Chesnut Run facility. Mr. Boyer is a self-taught vocational pianist who has occasionally received instruction over the past forty years.
He and his late wife, Mary, raised five children, who were all musically inclined, having played piano, trumpet, saxophone, and violin. Mr. Boyer's daughter, Jeanne, suggested he write Learn Piano Chords Easily after he had provided a "chords solution" for one of her friends. Day to day, Mr. Boyer particularly enjoys rehearsing from Rogers and Hart song books.
RoseDog Books is pleased to announce the publication of Learn Piano Chords Easily ($16.00) ISBN: 978-1-4349-9841-5, paperback. For more information, please contact RoseDog Books, at 701 Smithfield Street, Pittsburgh, PA 15222. To place a book order or to learn important information about shipping prices, tax, and our return policy, please call (800) 834-1803.
###