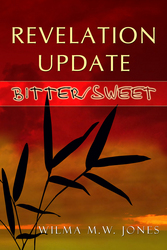 Pittsburgh, PA (Vocus) July 16, 2010
Revelation Update: Bitter/Sweet uncovers the Lord Jesus' plan of how He will bring all enemies under His feet for His return (Ps. 110:1; Amp).
Christ's plan entails overcoming the Gates of Hell, where Satan and all his followers await. In His magnanimous plan, the saints play a major part, because they are the pillars and salt of the earth. As written, the earth is the Lord's, and therefore at no time will God leave the earth empty of its saints for Satan's takeover.
Israel, God's wife in travail today, will bring forth new life through Jesus Christ to fulfill her erstwhile hope of being a light unto the nations.
About the Author
I was born of German parents in 1921 on a small farm near Darmstadt, Illinois, and now live in Bloomsdale, Missouri, about 55 miles south of St. Louis. I am the mother of four sons; my youngest son is deceased. After my husband's death, I entered the nursing profession. At age 51, I became a Licensed Practical Nurse, and at age 61, I graduated from Southeast Missouri University with an Associate degree in Nursing. After 17 years, I retired from nursing to follow my interests in reading and writing.
The Bible has been my guide for Truth from my teens, and my study of philosophy led to my interest in collecting articles covering world news. For a college course, I wrote three short stories about my family, and in 1993 I wrote Peter's Building Blocks for the Church. My desire to understand the Word has not ceased, hence, providing the foundation for my latest work, Revelation Update: Bitter/Sweet.
RoseDog Books is pleased to announce the publication of Revelation Update: Bitter/Sweet ($18.00) ISBN: 978-1-4349-9635-0, paperback. For more information, please contact RoseDog Books, at 701 Smithfield Street, Pittsburgh, PA 15222. To place a book order or to learn important information about shipping prices, tax, and our return policy, please call (800) 834-1803.
###