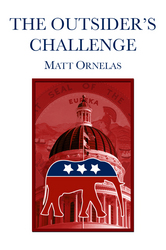 Pittsburgh, PA (Vocus) July 16, 2010
Take a journey into the lives of Bob and Tim Hent. See the father and son experience the good life, betrayal, tragedy and, above all, great political success. This political fiction deals with the alternative-energy movement, pro-life movement, legal-reform measures, and the bias against conservatives in the mainstream media. It is a must read for those interested in contemporary conservative thought.
About the Author
Matt Ornelas comes from a journalism background. The author graduated from San Diego State University with a degree in journalism. He has also worked for a number of years in public relations and has done some freelance work. Mr. Ornelas enjoys fishing and playing tennis.
RoseDog Books is pleased to announce the publication of The Outsider's Challenge ($14.00) ISBN: 978-1-4349-9822-4, paperback. For more information, please contact RoseDog Books, at 701 Smithfield Street, Pittsburgh, PA 15222. To place a book order or to learn important information about shipping prices, tax, and our return policy, please call (800) 834-1803.
###