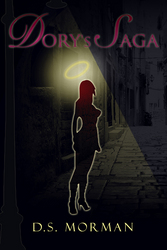 Pittsburgh, PA (Vocus) July 16, 2010
Dory's Saga is the story of how a terrible tragedy in a young girl's life morphed over the years: from depths of hopelessness to the heights of hope. It shows how the most unlikely of people and circumstances conspired to make that transformation possible.
Dory Cowl's story is an example of how the future can often be something quite different than it seems.
About the Author
D.S. Morman is a retiree from a major US Corporation. Over his long career, he held a number of executive positions. His work took him to many locations within the US and overseas. Those experiences gave him exposure to a wide range of cultures and people. He learned that while the cultures varied, there were a number of common characteristics present in the people.
He took up writing as a second career on retirement and has written a number of essays, short stories, poems and novels, based on his lifetime of observations. To date, he has not sought publication as a goal; although a few of his poems and essays have been printed in religious genre magazines.
He currently resides in southern New Jersey with his wife.
RoseDog Books is pleased to announce the publication of Dory's Saga ($14.00) ISBN: 978-1-4349-9861-3, paperback. For more information, please contact RoseDog Books, at 701 Smithfield Street, Pittsburgh, PA 15222. To place a book order or to learn important information about shipping prices, tax, and our return policy, please call (800) 834-1803.
###