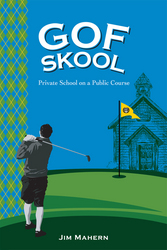 Pittsburgh, PA (Vocus) July 16, 2010
From his early golf at Battle Island in central New York to now living near the famous Pebble Beach Golf Links, the author shares personal stories about golf and golfers.
Many of the people in this book—Arthur, Jack, Doc, and Uncle Ed—were all his teachers at various times during Gof Skool. You may recognize them, with other names, from your own experiences.
The lesson from this school is that you do not need to be a professional golfer to be professional on the golf course.
This is a brief, fun read that is timeless in its lessons and takes less time than a round of golf on your favorite course!
About the Author
Jim Mahern was born in Fulton, New York. He grew up around Battle Island Golf Club, when he took up the game at the age of ten. He played on his high school and college golf teams.
After college, and jobs at Procter & Gamble and International Paper, he was involved in the startup of several small businesses. His idea for success is quite simple: "Whether with a major company or in a small business, the lessons learned on the golf course are useful in all facets of life. Individual accomplishments are important to the success of most teams. Integrity on the golf course, in business, and in your family life is invaluable."
He and his wife/best friend, Marcelline, have raised three children and have had successful business careers. The love of golf has been passed on to their children and grandchildren.
RoseDog Books is pleased to announce the publication of Gof Skool: Private School on a Public Course ($14.00) ISBN: 978-1-4349-9752-4, paperback. For more information, please contact RoseDog Books, at 701 Smithfield Street, Pittsburgh, PA 15222. To place a book order or to learn important information about shipping prices, tax, and our return policy, please call (800) 834-1803.
###