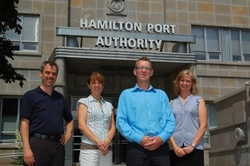 We expect the move to 360 PropertyManager© to provide significant value for our company
(PRWEB) July 16, 2010
Hamilton Port Authority has chosen 360 Visibility Inc. to bring the power and efficiency of 360 PropertyManager© for NAV 2009 to its business. The new solution will improve the current handling of all key business processes for Hamilton Port Authority, while providing significant enhanced functionality to every aspect of marina and port-wide property management.
Based in Hamilton, Ontario, Canada, Hamilton Port Authority chose 360 Visibility Inc. because they are the only Microsoft Partner in North America offering a complete property management solution built directly in Dynamics NAV 2009.
"We expect the move to 360 PropertyManager© to provide significant value for our company," says Janet Knight, CFO at Hamilton Port Authority. "Dynamics NAV is familiar to our people, is reliable for standard business activities, flexible for our non-standard needs and scalable enough to grow along with us. With 360 PropertyManager© we can continue to stay on our single-application platform with NAV, and we can keep integrating more and more of our business processes into the solution. 360 Visibility's expertise with 360 PropertyManager© and Microsoft Dynamics NAV makes them the right choice for this projects' success."
The first phase of the project will be to upgrade the existing Dynamics NAV version 4.0 at Hamilton Port Authority to the current version of Dynamics NAV 2009.
360 PropertyManager for NAV 2009©
"360 PropertyManager© for Microsoft Dynamics NAV 2009 is a turn-key property management software solution based on traditional NAV architecture, enabling us to provide Hamilton Port Authority and our other customers the benefits of implementing an out of the box solution that remains flexible and can be tailored to meet their needs," said Jens Baun, VP Sales at 360 Visibility Inc.
About 360 Visibility Inc.
360 Visibility Inc. is a Microsoft Gold Certified Partner headquartered in Toronto, Canada focused on offering industry specific enterprise solutions to businesses in Canada. We are Business Management specialists who allow you to effectively pilot your business so you can capitalize on opportunities and avoid the common pitfalls involved with running your business. Lynn Cooke, President, 360 Visibility "We are proud to team up with Hamilton Port Authority and to provide them with a solution that will make it possible to integrate each of their business processes into NAV 2009 and 360 PropertyManager."
About Hamilton Port Authority
The Hamilton Port Authority, formerly the Hamilton Harbour Commissioners, has been managing Hamilton's industrial port lands since 1912 and is the busiest of the Canadian Great Lake ports with an average of 12-million tonnes of cargo and over 700 vessel calls per year, accounting for approximately 28% of all movements on the St. Lawrence Seaway System. Hamilton Port Authority has an extensive portfolio of real estate including over 600 acres of land, over 9,000 metres of wharf, almost 2,000,000 square feet of warehouse space, and close to 150,000 square feet of office space. The mission statement, "Partnering for Progress" drives Hamilton Port Authority toward the vision of becoming, "The Great Lakes Port of Choice".
360 PropertyManager(c) for Microsoft Dynamics NAV 2009 is the right Property Management solution for your business
With the release of the brand new product built in Microsoft Dynamics NAV 2009, 360 Visibility Inc. is the preferred provider to the industry when it comes to the perfectly integrated solution.
No more Data Islands, no more double entry in the daily routines. With 360 PropertyManager(c) as the core of your business you will have everything in one solution, one database and a seamless integration with all other Microsoft products you use in your daily operation.
Lease management and total transparency over tenants, lease agreements, financial overview on the fly – and above all, everything is real-time.
360 PropertyManager(c) will give you all the functionality you need to manage commercial lease, residential lease, retail lease, land lease and lease of everything from parking space over short term storage to boat slips in a marina.
Easy, logical and uncomplicated is the solution that will give you and your business an improved administration and cut down on your use of paper and spreadsheets.
Microsoft Dynamics NAV 2009 is a complete ERP solution with a difference
Since 1984, Microsoft Dynamics NAV has established itself as a choice for mid-sized organizations looking for a complete enterprise resource planning (ERP) solution that is fast to implement, easy to configure, and simple to use. Today, simplicity continues to beat at the heart of Microsoft Dynamics NAV. And its state-of-the-art functionality covers everything you need to run and grow a successful business. More than one million users have used Microsoft Dynamics NAV to simplify and streamline their highly specialized business processes.
Microsoft Dynamics NAV provides companies and their people with industry specific functionality that's relevant to the local needs of their regions of operation, even for the most highly specialized industries and organizations. Microsoft Dynamics NAV is easy to use and offers rapid adaptability and simplified customization enabling companies to easily add functionality, custom applications and online business capabilities. With Microsoft Dynamics NAV, employees can become more effective and the company more competitive.
Microsoft Dynamics NAV collects your business's functions into one integrated system. With close visual and functional ties to Microsoft Windows and Microsoft Office, it's easy to learn, simple to use, and quick to implement. With integrated financial, manufacturing, supply chain management, sales and marketing, project management, human resources, and services management information from across your organization stored in a centralized database, your people can work quickly and effectively—helping to drive your business forward.
# # #