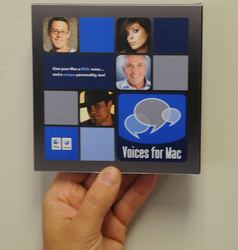 Goodbye, Alex! VoicesforMac adds fun, interesting personality to the speech tools on your Mac.
Pittsburgh, PA (PRWEB) July 19, 2010
New from Cepstral LLC, a global leader in premium-quality Text-To-Speech (TTS) technology: VoicesForMac.com. Now Mac users can have their laptops or desktops speak to them in one of eight distinctive "real" voices – for an endless array of personal and professional communications.
For example, "Dallas" or "Belle," two brand-new Southern US accented voices, might verbally announce the arrival of emails and their sender or read pdf documents aloud, enabling a receiver to fully focus on other activities. Dallas and Belle are the only TTS voices available with a Southern accent.
"I can identify with Dallas," begins Dan Bagley, Cepstral's Arkansas-bred CEO. "He really provides me a link to where I'm from, bringing me my emails in a voice that sounds genuinely familiar, a true Southern gentleman. Not only that, but my use of him frees me up to concentrate on the task at hand while not missing someone's communications with me."
"Whispery," another popular Mac voice from Cepstral, can softly alert a user of an impending meeting, a client's arrival, or simply speak the time of day at programmed intervals. In other words, he could be considered a low-cost personal digital assistant. Says Patrick Dexter, Cepstral's Director of Business Development: "Goodbye, Alex! VoicesforMac adds fun, interesting personality to the speech tools on your Mac. Its easy - just download one you like and purchase a license."
Apps for the iPhone and iPad use Cepstral's VoiceForge.com webservice to bring even more voices to the mobile market. These fun and entertaining voices have already played integral roles in successful marketing campaigns – having been featured in millions of viral ads for apparel, beverages, and other consumer items.
The US military has employed Cepstral's extraordinary voices for real-time tactical translations. Two additional voices from Cepstral, Callie and Marta, are used in over one million Samsung mobile handsets.
VoicesforMac runs on Cepstral's latest 5.2 version platform and is totally compatible with Snow Leopard, Leopard, and Tiger software. Cepstral's TTS platform also supports Linux and Windows and its VoiceForge.com (patent pending) site offers voice software as a service
For complete details, please contact Patrick Dexter: Patrick(at)cepstral(dot)com, 412.432.0400.
###