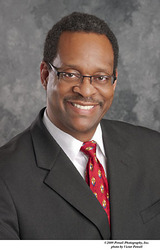 Ken is a brilliant businessman who has grown his company exponentially, making his firm a high-growth venture.
Chicago, IL (PRWEB) July 17, 2010
For Kenneth Williams, the recent recession became the best way for him to test his skills as a forward-thinking entrepreneur and CEO.
Despite the tough economic climate, Williams, president/owner of The Shred Authority, Inc., maintained the company's profits and revenue and developed a loyal customer base. Williams was recognized for his achievements at the Kellogg School of Management's Alumni Entrepreneur Conference where he received the 2010 Kellogg Alumni Rising Entrepreneur of the Year award.
The award is given to a Kellogg alumnus or alumna that has organized and managed ventures across the full entrepreneurial spectrum and has actively expanded their business by leveraging his or her leadership and management skills.
In 2005, Williams purchased The Shred Authority, a document destruction company, and spearheaded an innovative plan to turn it around. Repositioning the company was the first step in which Williams launched a re-branding campaign to underscore its new mission and leadership. Secondly, he reaffirmed the company's dedication to customer service by ensuring high-quality service to its clients. In addition, Williams structured a sound financial plan and better operating metrics to secure the company's fiscal stability. His business decisions proved to be a strategic safeguard a few years later when the financial crisis crippled and wiped out many companies.
"There's a difference between a lifestyle entrepreneur and a high-growth entrepreneur. The latter is a person who runs a company with a plan and the expectation of growing it. This is what we teach our students and Ken has embraced that teaching," said Steven Rogers, entrepreneurship professor at Northwestern University's Kellogg School. Rogers also serves as the director of the school's Levy Institute of Entrepreneurial Practice which hosts the annual alumni entrepreneur conference. "Ken is a brilliant businessman who has grown his company exponentially, making his firm a high-growth venture."
Williams is now reaping the benefits of his turnaround strategy. The Shred Authority has experienced remarkable growth with an increase in profits, revenue and customer base. Williams' plan to strengthen customer relationships has shown remarkable results, as well. Currently, 100 percent of the firm's customers serve as new business references and 90 percent of its customers rate its service as excellent or best-in-class.
The Shred Authority is an independently minority-owned and operated document destruction company. It utilizes technologically advanced tools and cost effective and rigorous methodology to recycle waste in accordance with federal statutes and its customers' commitment to environmental conservation. The core competency of The Shred Authority is the shredding of sensitive documents for corporate customers. In addition, the company is AAA NAID (National Association for Information Destruction) Certified for micro-media and computer hard-drive destruction, both on-site and off-site.
For more information on The Shred Authority, Inc., visit: http://www.shredauthority.com/.
###