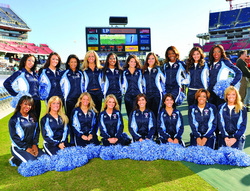 GTM is an awesome apparel provider. Their professionalism, product quality and dynamic customer service makes for a pleasurable experience every time
Manhattan, KS (PRWEB) July 20, 2010
GTM Sportswear® is proud to announce that they have signed sponsorship agreements with 11 NFL Cheer Teams for the 2010-2011 season. The sponsored teams include: Arizona Cardinals, Atlanta Falcons, Buffalo Bills "The Jills", Cincinnati "Ben-Gals", Denver Broncos, Indianapolis Colts, Minnesota Vikings, New Orleans "Saintsations", San Francisco 49ers "Gold Rush", Tampa Bay Buccaneers, and Tennessee Titans.
GTM® began the NFL Cheer Sponsorship program for the 2009-2010 season, and a majority of the 2010-2011 teams are returning from the previous year. "GTM is an awesome apparel provider. Their professionalism, product quality and dynamic customer service makes for a pleasurable experience every time." said Chato Waters from Atlanta Falcons Cheer.
The sponsorships vary by team and include trade of GTM® products for promotional elements provided by the NFL Cheer Team. Promotional elements include, but are not limited to, GTM Sportswear® logo included on the team's website, jumbotron advertisements during games and events, program ads, photo cards, season tickets, radio spots, and personal appearances. The more the team is willing to provide, the more product allowance they are given. The cheer teams can choose whatever product they wish to apply their allowance towards, including but not limited to, warm-ups, bags, practice wear, and poms. GTM Sportswear® has also assisted many of the above mentioned teams with their Junior, All Star, and Alumni program apparel orders.
For more information on GTM Sportswear® sponsorships, visit the sponsorship page on their website.
About GTM Sportswear
GTM Sportswear® is a national sportswear company specializing in team uniforms, warm-ups and practice apparel with custom embellishment. The business began in 1989 with two friends selling college apparel to students under the name It's Greek To Me, Inc. The company quickly grew by branching out into high school team and booster apparel and changed its name to GTM Sportswear®. GTM Sportswear® headquarters is located in Manhattan, Kansas where a 160,000 square foot facility houses over 700 employees. For more information visit http://www.gtmsportswear.com
###