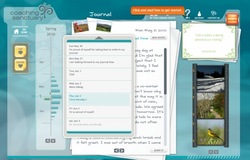 "We wanted to create a solution that addressed the needs of women, while providing benefits similar to those of Mindjet," said Mindjet Founder and Co-Founder of Coaching Sanctuary, Bettina Jetter.
San Francisco, CA (PRWEB) July 20, 2010
Founders of the revolutionary technology company, Mindjet, leading provider of software and cloud-based applications for visually organizing and managing information and ideas used by more than 1.5 million professionals around the world in 44 of BusinessWeek's 50 "World's Most Innovative Companies," have created a new Web 2.0 Life Coaching application geared toward women, CoachingSanctuary.com. Putting a technological twist on tradition, Coaching Sanctuary brings life coaching online through innovative design and interactive technology, allowing members to experience a self-guided journey to personal transformation in the comfort and privacy of their home.
Mindjet Founder and Co-Founder of Coaching Sanctuary, Bettina Jetter, wanted to create a solution that addressed the needs of women and provided benefits similar to those of Mindjet in areas of collaboration, personal productivity, time-management and innovation, with an added element of personal transformation and life fulfillment.
"Coaching Sanctuary is a comfortable place where members can experience personal transformation through an integrated set of fun and easy-to-use tools that focus on everything from goal-setting and tracking to peer-collaboration, journal writing and reflection for a more fulfilled and intentional life," said Jetter. "People can think of it as a space between self-help books and one-on-one life coaching sessions, without having to spend the money and time associated with these traditional methods."
Featured Tools
•Community Board – a content related message board with user-generated content from like-minded members that inspires discussion and comments about shared goals and experiences
•Goals & Vision Board - helps members set personal goals, schedule practices and actions and visualize their new life with customized photos and images
•Journal – a place for members to capture thoughts, feelings, and experiences as they move through the process; inspiring quotes, words and images help jump start journal writing and a timeline provides for reflection on previous entries
•Journey – personalized self-guided transformational program consisting of the "Spiral Up Process" from Wendy Wallbridge and enabling individual transformation; variety of levels available
•Privacy protection – extra layers of security matched with individual password protected user accounts provide total privacy and a sense of peace and comfort during use
•Aesthetically pleasing and fun interface – the user-friendly site is easy to navigate and suitable for all levels of computer experience, complete with customer support and free of disruptive advertising and pop ups
Coaching Sanctuary offers a primary subscription (starting point for every user), and different levels of the transformational program that correspond with the needs of users and their desired level of growth. The monthly subscription starts at $4.95 for the Reflect Plan, which includes the online Journal. The Discover Plan costs $9.95 and includes the Reflect Plan, as well as the tool kit for creating Goals, the Vision Board, the Community Board, an assessment and progress tool and the introduction level of the Journey. The Reinvent Plan includes all of the above, as well as all three levels of the "Spiral Up Process" by Wendy Wallbridge. The monthly subscription provides a very flexible model and can be upgraded, downgraded and suspended any time.
For more information about Coaching Sanctuary and/or to take a free Test Drive visit http://www.coachingsanctuary.com. To request an interview with Bettina Jetter, please contact Kaity Ocean at [email protected] or 775-787-9257.
###