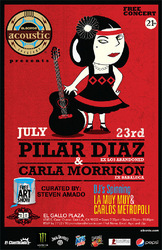 Highlighting the talent of LA's emerging artists is something that Al Borde has been doing for years
Los Angeles, CA (Vocus) July 15, 2010
Think Latin Alternative. Now, think of Latin Alternative musical greats. An Enrique Bunbury, a Gustavo Cerati and an Andrés Calamaro might come to mind. In fact, it wasn't until recently, when names like Julieta Venegas, Bebe or Anita Tijoux began to change the landscape of a mostly male dominated industry.
Locally speaking, the Los Angeles Latin Alternative music scene mirrors that same proportion of female musicianship on the rise. With its second Acoustic Sessions event series of the year scheduled for July 23 at East Los Angeles' El Gallo Plaza, Al Borde aims to highlight that growth by presenting a free showcase where female musicians, fashion designers, artists and DJ' s are celebrated.
Headlining the night with her acoustic and soulful flare is veteran musician Pilar Diaz, whose dominance of the ukelele, keyboards, and rhythm guitar cemented her place in the independent music scene of Latin rock. Accompanying the Chilean rocker on the bill is Mexican songstress and indie favorite Carla Morrison, who much like Diaz, is quickly being recognized by modern Latin Alternative powerhouses as one of the most influential contributors of the genre.
"The idea of having a separate show for women gives us a unique space to show our work in fields where males usually dominate," states Morrison. "With the all-female show guests will experience tenderness, love, and peace, and will be reminded that we female artists rock just as hard as our male colleagues" she adds.
The showcase will also present the designs of a surprise female designer as well as include the pop/rock en español mixes of ''La Muy Muy'', an emerging DJ of LA's new Spanish-spun musical movement.
In addition, art displays and live paintings will bring the all-female concept full circle by exhibiting the work of artisans from the local Boyle Heights, East Los Angeles, Long Beach and South Bay areas. "Highlighting the talent of LA's emerging artists is something that Al Borde has been doing for years," states Steven Amado, curator to Al Borde's art shows. "But now the acoustic events takes on a competitive edge by creating an artistic space solely for men [as was the first 2010 acoustic session] and another for women. These women will pack a punch!"
Al Borde's 2010 Acoustic Sessions are sponsored by Monster Beverage Co., Jack Daniel's, Manzanita Sol, Kas Más, Pepsi, and El Clasificado.
''Al Borde's Acoustic Sessions'' is a series of free intimate concerts presented by Al Borde (http://www.alborde.com ), a premier Latin Alternative media outlet reaching the 18 to 34-year-old Hispanic demographic. Owned and published by the Spanish-language weekly El Clasificado (http://www.elclasificado.com )– a Hispanic Business 100 multimedia company – Al Borde is rapidly becoming a leading Latin Alternative multiplatform company that offers advertising opportunities through sponsored events, section sponsorships, street team promotions, web sites, and mobile services.
# # #