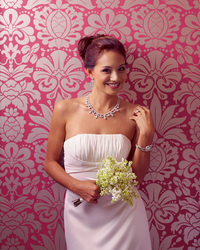 Honolulu, HI (PRWEB) July 17, 2010
Perfektphoto.com, Hawaii's wedding photographers is featuring pictures from a $1 million dollar photo shoot with Harry Winston at the Royal Hawaiian.
To kickoff the partnership between Harry Winston and the Royal Hawaiian, David Murphey of Perfekt Photo was selected to shoot a series of photographs featuring over 1 million dollars of jewelry at the Waikiki resort. The collection included a 56 carat princess necklace, 2.3 carat pear shaped diamond ring and luggage by Louis Vuitton.
Selected photographs are featured at http://perfektphoto.com/harry-winston with a behind the scenes video of the photo day.
About: Perfekt Photo is a boutique Hawaii wedding photography studio servicing Hawaii and California. With over 18 years of experience, their photojournalistic approach to weddings and experience in fashion photography creates the perfect blend of story-telling. For more information, contact the studio by calling (808) 222-7011 or visit http://perfektphoto.com/.
Perfekt Photo
1323 Makiki Street A106
Honolulu, HI 96814
(808) 222-7011
http://perfektphoto.com
# # #