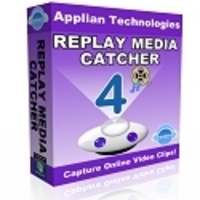 San Anselmo, CA (Vocus) July 16, 2010
Applian Technologies today announces the release of Replay Media Catcher 4 – a major update to their extremely popular recorder and converter for online video and audio.
Replay Media Catcher 4 sports a new automatic conversion setting available right on the main interface. Customers can choose from over 100 conversion formats, including several for Apple's iPad, iPhone and iPod products. Once a video is downloaded, it can be immediately converted and copied into iTunes. Online music files can be transferred in this way as well.
Replay Media Catcher 4 has some new "under-the-hood" support for more protocols and web sites, including support for popular web-cam chat destinations and a "record" feature that supports more sites and saves on bandwidth by recording from the original browser connection.
Also new with version 4 is built-in Music Search and Video Search. Enter the name of a song, artist, or part of a video title, and Replay Media Catcher performs a search through thousands of sites. Most video results can be captured with Replay Media Catcher, and all music and audio links can be saved as well.
Replay Media Catcher works on any PC running Windows 7, XP or Vista. Replay Media Catcher retails for $39.95 on its own, or can be purchased as part of the Replay Capture Suite for just $79. In addition to Replay Media Catcher, the Replay Capture Suite includes Replay Music, Replay AV, Replay Video Capture, Replay Telecorder for Skype, Replay Converter and other programs.
About Applian Technologies:
Applian Technologies, started in 2000, is a privately held company based in Marin County, California. Applian creates affordable, easy to use, recording, conversion and editing software for streaming media enthusiasts. This latest version of Replay Media Catcher was developed through a partnership with Jaksta LLC. Learn more about Applian products at http://www.applian.com.
# # #