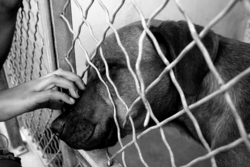 This innovative project will provide much-needed assistance to animal shelters, while allowing people to recycle their empty cleaning solution containers
Philadelphia (PRWEB) July 17, 2010
Animal shelters in the Philadelphia area will receive much-needed cleaning supplies thanks to a partnership between three area businesses.
Romp Pet Care, The Big Green Earth Store and eco-friendly cleaning product company Sun and Earth are joining forces to help the pet care service's clients support local shelters simply by donating their empty cleaning solution containers. The "Recycle the Love" initiative aims to cut costs for animal shelters by providing them with environmentally safe cleaning supplies.
"This innovative project will provide much-needed assistance to animal shelters, while allowing people to recycle their empty cleaning solution containers," said Neil Simon, owner of Romp Pet Care. "We are proud to do our part in this three-pronged effort to make our community an even better place to live."
Starting August 1, Romp Pet Care clients will be able to have their used containers picked up at their homes. After that, the service will have the containers refilled by The Big Green Earth Store with eco-friendly chemicals donated by King of Prussia-based Sun and Earth. The company will provide 13 ounces of product for every container donated.
The partnership is the first of its kind in the Philadelphia area, allowing local pet owners and environmentalists to work together to bring about change. The group hopes to spread awareness of serious issues facing the city's animal shelters.
"The 'Recycle the Love' initiative is the epitome of thinking and acting both locally and globally," Simon said. "By taking on such an effort, we hope to truly demonstrate that companies large and small can work together and act in the best interests of the community they serve."
Romp Pet Care is a dog walking, pet sitting and overnight pet care service based in Philadelphia. For more information, visit http://www.romppetcare.com.
# # #