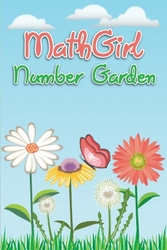 The 'I can't do math' attitude transforms into an 'I can' as confidence blooms in young learners.
Makawao, HI (PRWEB) July 16, 2010
Icanology LLC today released MathGirl Number Garden, a math game designed just for girls that is compatible with the iPhone, iPod Touch, and iPad. MathGirl combines cute, fresh graphics and the engagement of gaming with a visual, right-brain approach to numbers. Four-year-olds can tackle three of the twelve levels. For girls learning addition and multiplication, Number Garden fills in the steps too often missing in school. Even adults experience greater fluency with numbers.
Here's what reviewers have said about MathGirl Number Garden:
"In 1992, Mattel Toys made the first talking Barbie doll. Her first words were, 'Math class is tough'. . . MathGirl Number Garden offers a girly-girl way to teach girls that math isn't so tough. . . Wrapped up in an app with pleasing graphics, fun music, and a creative garden, girls will enjoy Number Garden's no-pressure approach to math." 4.75 stars out of 5. RatedGforGeek.com
"As children interact with the game (and it is a game!), they are easily able to make connections between numerical symbols and the values they represent. This provides a firm foundation upon which future concepts can grow. Before your eyes, you will begin to see the concepts of addition and multiplication take root. More importantly, with each success, the 'I can't do math' attitude transforms into an 'I can' as confidence blooms in young learners." Ashley Alain, homeschooling mom with an MA in math education, hyperhomeschool.com
Most math games for smartphones are drills and practice. MathGirl Number Garden actually teaches. By learning to see numbers in patterns, players earn stars to "buy" prizes for their personal gardens.
In the Number Garden, you can:

Play 12 levels.
Count flowers and hands/fingers in patterns.
Get faster by recognizing patterns.
Earn stars for right answers.
Replay levels to get faster and make more stars.
Use stars to "buy" items for your garden.
Fill your garden with flowers, bunnies, snails, butterflies, dragonflies, a soccer ball, a tire swing, a magic pond, a tree house, and more.
"Sell" items to upgrade to bigger items.
Play in and save your personal garden.
Designed by mother and daughter team, Lynn Rasmussen and Molly Rasmussen, MathGirl Number Garden is the first of what will soon be the MathGirl series. Lynn Rasmussen is a systems theorist with an MA in human development. Twenty years ago, when her children were small and in public school, she saw what was missing in many students' experiences with numbers. She also saw that the math expertise of individual teachers widely varied. She said, "Too many bright people struggle with math. Our mission is to wipe the 'bad at math' experience off the face of the Earth. Finally, in the iPhone and iPod Touch we have an engaging, interactive medium for teaching all children." Molly Rasmussen, a Cornell graduate in design and product development, worked for six years as a swimwear designer. She designed many successful brands, including Hannah Montana for girls, and now applies the same expertise to app and game design. Molly said, "We use current trends in graphics and gaming to build a new way to teach math, one that appeals to girls' senses and how girls like to play." Robert Bonifacio, MathGirl's programmer, sold his first game to Atari at 12. He's now dedicated to working on projects that make a difference.
Device Requirements:

Compatible with iPhone, iPod Touch, and iPad
Requires iOS 3.0 or later
4.2 MB
MathGirl in the iTunes Store
Video
YouTube Video
# # #