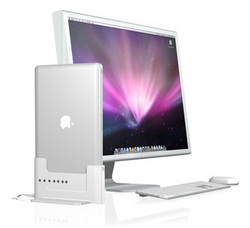 Henge Docks provide a great looking, convenient and tidy method of harnessing the full versatility of MacBook computers in both home and office
(PRWeb UK) July 18, 2010
Henge Docks has created the first comprehensive docking station solution for Apple's line of notebook computers.
With the Henge Docks solution, MacBook computers can be quickly and easily incorporated into a desktop setup or a home theater system, making available the best features of a laptop, desktop and media center PC all from one computer. Henge Docks patent-pending design doesn't require any hardware, software or settings changes to the computer and every current MacBook is compatible with the Henge Docks system.
Robert Garner, sales director of Protronica says, "Henge Docks provide a great looking, convenient and tidy method of harnessing the full versatility of MacBook computers in both home and office".
Protronica supply a number of breakthrough technological products, and are the first company in the UK to stock the HyperMac range of batteries for MacBook computers allowing users to work for extended periods away from power sockets.
For more information about Protronica Ltd visit protronica.co.uk
###