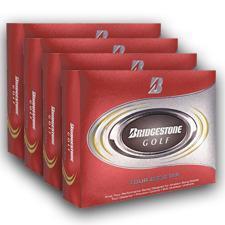 We're very pleased to team with Bridgestone to offer a quantity deal to our customers
Lafayette, LA (Vocus) July 19, 2010
Bridgestone Golf, the acclaimed world leader in individualized ball fitting, will team with Golfballs.com to offer a special late-summer quantity purchase deal on Bridgestone's most popular golf balls.
Through the promotion, exclusively available on the Golfballs.com web site beginning July 15, golfers may take advantage of a buy-three, get-one-free deal on one-dozen packages of Bridgestone's popular "B" and "e" series.
The special includes Bridgestone's 3-piece B330RXS, the softest multi-layer urethane series ball on the market and one designed for moderate-swing speed players. It also includes the Bridgestone e6, a soft multi-layer ball designed to reduce hooks and slices off the tee and deliver a straighter, longer and more accurate ball flight. The B330RXS and the e6 are Bridgestone's two largest-selling balls.
"We're very pleased to team with Bridgestone to offer a quantity deal to our customers," said Golfballs.com president and CEO Tom Cox. "The Bridgestone lines are among our best-selling, and the ability to provide the ball best suited to each player's swing speed and style makes this a great value."
The entire "B" series, which also includes the B330, the B330S and the B330RX, and the "e" series that also includes the e5 and e7 balls are all available through the promotion that runs through Aug. 31.
Golfers who purchase three dozen of any of the seven ball types at the regular price will receive the fourth dozen free. There is a limit of one free dozen per customer. Complete details on the Bridgestone offer will be available at http://www.golfballs.com beginning Thursday, July 15.
ABOUT GOLFBALLS.COM
From humble beginnings in a 100-square-foot room in a small-town warehouse, to its current state-of-the-art 20,000-square-foot facility, Golfballs.com has grown to become one of the world's leaders in on-line golf ball and equipment sales. Co-Founder Tom Cox has served as president and CEO since its 1995 start-up, growing the business from $17,000 in first-year sales to a 40-employee company that has over $10 million in annual sales, and which has sold over 50 million golf balls direct to consumers in all 50 states and over 50 countries. Golfballs.com has an in-house production department and is an authorized internet retailer for key brands including Titleist, Callaway and Nike and has been an approved Titleist imprinter since 2003, creating a company-wide focus on the sale of customized and personalized golf equipment. The company opened its retail outlet store in 2004 and recently launched loyaltylogo.com, a full-service promotional product distributor catering to businesses.
# # #