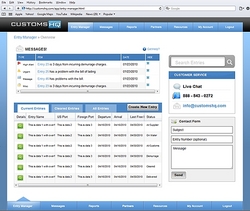 There's no reason importers should have to fax documents to their broken when the Web offers such effective tools for collaboration and sharing
Long Beach, CA (PRWEB) July 16, 2010
The Customs HQ web interface streamlines the importing process by reducing the number of faxes, e-mails and phone calls required. By negotiating on behalf of its entire user base and partnering with some of the premiere service providers in the world, Customs HQ saves businesses money on their imports.
CustomsHQ.com offers simple workflows and step-by-step instructions for getting cargo through U.S. Customs quickly and cheaply. The site's document manage and messaging application simplify communication with your customs broker and the government. The report generator provides actionable insights into all aspects of your company's importing history.
For most shipments entering the U.S., at least some of documents and data reside with a supplier, service providers or customs brokerage instead of inside the importing company. By giving importers the tools they need to collect this data and share it with the appropriate parties, including directly to U.S. Customs, the web application will save importers time and money on their customs clearances.
Throughout the process, a licensed customs broker will be signing into review your information and guide you through the Customs clearance process.
"There's no reason importers should have to fax documents to their broken when the Web offers such effective tools for collaboration and sharing," said Customs HQ founder Ryan Petersen. "Not only can we reduce the communication burden, but we also reveal the entire landscape of customs duties you're incurring across all your supply chain."
About CustomsHQ.com
Customs HQ provides web-based software to help importers manage the entire import-export process, saving them time and money on customs clearances, ocean freight, transportation and logistics solutions.
###