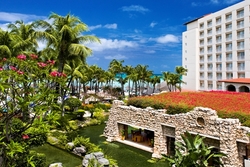 Palm Beach, Aruba (PRWEB) July 19, 2010
Summer vacation at Hyatt Regency Aruba Resort means kids really rule! New activities and amenities created especially for families on summer vacation this July and August appeal to children, teens and families. Guests at the leading Caribbean resort will enjoy:
New "Kids Rule! Concierge" Offers Complimentary Beach Essentials
To accommodate families on summer vacation, the arrival experience at the Hyatt Regency Aruba resort will include a "Kids Rule! Concierge" each day during peak check-in times. The "Kids Rule! Concierge" desk provides guests with welcome gift items including: Aruba beach bags, miniature suntan lotion, and beach pail and shovel. In addition, families can learn about the popular Camp Hyatt program - which features Aruba-specific activities such as Papiamento language lessons, island scavenger hunts and Aruban story time.
Dive-In Movie
Spend even more time at the pool as a family with movies on the Main Pool Deck every Tuesday and Thursday. Enjoy theater-style seating or dive right in and watch family-oriented feature films projected onto a giant screen. Forgot to pack popcorn? Refreshments such as popcorn and drinks will be available via concession.
Complimentary Healthy Snacks and Soothing Aloe Mists
Sun and fun typically leads to hungry bellies at snack time! Each day, complimentary skewers of tropical fruits will be offered to the Caribbean resort's guests around the pool at 2:00 pm. Throughout the day, the pool staff will offer guests lounging about the pool a cool, refreshing mist of locally grown aloe, an Aruban specialty.
Kids "Pay Their Age" at Palms
During peak periods, children "Pay Their Age" at a special kid's dinner buffet in Palms restaurant. Sample items kid favorites such as macaroni and cheese, chicken nuggets, pizza bagels and warm baked cookies.
Smooth & Cool Family Bonding
A smoothie class will be offered every Monday at 10:30 am in Kadushi Fresh Fruit Juice Bar and guests will learn how to make the resort's most popular smoothies. This is an excellent activity for teens or for family bonding, especially as complimentary samples and recipe cards will be handed out as keepsakes to bring home.
Let the Family Games Begin
New family oriented team-building activities on the summer schedule include Family Tug-o-War, Family Limbo Contests and Token Dives.
Room rates at the Aruba resort for July and August begin at $296 per night. The Hyatt Regency Aruba is offering their popular "Three for Free" promotion - guests enjoy a free night, free room upgrade and free daily breakfast for two. In addition, "Three for Free" can be combined with the "Family Plan" package, which offers a second room at 50% off the published rate and includes free daily breakfast for kids 12 and under. For more information about the Hyatt Regency Aruba or to make reservations this summer, call 1-800-55-HYATT or visit http://www.hyattregencyaruba.com .
About Hyatt Regency Aruba Resort & Casino
Located on 12 acres of magnificent beachfront property on Aruba's world-renowned Palm Beach, Hyatt Regency Aruba Resort & Casino is a year-round resort with a reputation for refined hospitality. Its 357 sumptuous guestrooms and suites have been recently renovated to include plasma televisions, roomy bathrooms and Hyatt's signature Grand Bed. The multi-million dollar renovation brings a fresh chic to the hotel with an emphasis on natural stone floors and colorful Caribbean accents. Recreational facilities are abundant and include a 3-level pool complex, a spa with fitness center, tennis and basketball courts, a private beach, Camp Hyatt for kids and the Casino Copa Cabana. On-site dining includes Ruinas del Mar restaurant, Café Piccolo, Café Japengo and the Palms Bar & Grill. Nine meeting rooms and extensive outdoor areas are ideal for catered special events. The resort is conveniently located just 15 minutes from Queen Beatrix International Airport.
# # #