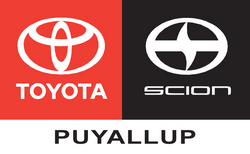 "My heart goes out to the many brave soldiers who defend our country and our freedom every day. We're just doing our part to make sure they know how much we appreciate their service. I'm happy to give what we can to support our troops fighting abroad an
Tacoma, WA (PRWEB) July 18, 2010
Kerry Bivens, President and General Manager of Toyota of Puyallup, earns the Sixth Region Association of the United States Army's (AUSA) Public Service Award for her support and dedication to the Region's Army families and veterans. The Sixth Region represents 13 AUSA chapters with approximately 5,000 members in six states: Washington, Montana, Oregon, Idaho, California, and Nevada.
The Fort Lewis Chapter of AUSA nominated Bivens for this prestigious award because of her ongoing support of military families. Contributions coming from Bivens and Toyota of Puyallup include a $5,940 donation to the Reflection Park Project at Fort Lewis; hundreds of care packages mailed to the troops in Iraq and Afghanistan through Support America's Armed Forces; and most recently, a Christmas food basket program offered to 150 military families at Joint Base Lewis-McChord who celebrated the holiday without their loved one.
"My heart goes out to the many brave soldiers who defend our country and our freedom every day. We're just doing our part to make sure they know how much we appreciate their service. I'm happy to give what we can to support our troops fighting abroad and their families here at home," states Kerry Bivens, President of Toyota of Puyallup.
AUSA is a private, non-profit educational organization that supports America's Army--Active, National Guard, Reserve, Civilians, Retirees and family members. AUSA provides numerous professional development opportunities at a variety of local and national events. At the Chapter level, morale and welfare activities provide support to Army families and veterans.
For more information on how to become involved with the Sixth Region Association of the ASUA, visit http://www.ausa6region.org
Toyota of Puyallup is located at 1400 River Road, Puyallup, WA 98371, (253) 286-6000 or online at http://www.toyotaofpuyallup.com
###