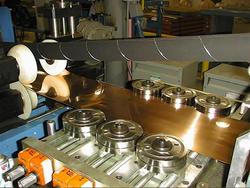 Mentor, OH (Vocus) July 17, 2010
Tube, pipe, and roll forming production can have its challenges. Initially, when problems arise during production on the mill, everyone tends to instantly blame the mill alignment or the roll tooling. Either of these may very well be the cause, however, it might be best to start with investigating how the material is entering the mill, to avoid costly trial-and-error methods that do not always provide the result needed.
Roll-Kraft has provided an article by Robert Sladky, Vice President Tube Mill Engineering, on the company blog that details the recommendations for proper material entry. The information includes issues involving the payoff reels, end welders, accumulators, and entry guides. Each section includes photos and tips for identifying potential problems and their solutions. There are many conditions that could cause material entry problems. The payoff reel may be out of line with the entry, the brakes may be too loose or too tight, unacceptable high-profile end welds, or even off-center entry into the first forming pass.
Following proper operating procedures and performing integrity checks of the mill entry system equipment and components will assure higher quality tube, pipe, and roll forming production and prevent the waste caused by producing scrap.
These and many other issues are addressed on the company website, http://www.roll-kraft.com.
Roll-Kraft provides custom-designed tooling and mill equipment for the tube & pipe and roll forming industry. The company has a full staff of engineers to aid in the design and manufacture of tube, pipe, and roll form tooling and mill equipment to meet even the most demanding requirements. The use of FEA Copra Software can identify areas of concern even before the manufacturing process begins, so that adjustments can be made to get the best possible tooling design.
There are three Roll-Kraft locations.: Mentor, Ohio; Frankfurt, IL., and Woodbridge, Ontario, Canada. The toll-free phone number for the company headquarters in Ohio is 888-953-9400 and the fax number is 440-205-3110. Immediate contact can be made by using Dr. Resolve. This feature is available around the clock and provides the quickest response from the company.
# # #