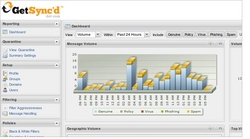 We understand client's needs for advanced technology tools at very aggressive pricing."
Cary, NC (PRWEB) July 18, 2010
GetSync'd.Com, a leading provider of hosted Kerio Connect email and groupware solutions for Macintosh, PC, and Mobile Smartphones, announced today that both new and existing GetSync'd customers are now eligible to receive GetSecure services at no additional charge.
GetSync'd.Com offers a Cloud-based Microsoft Exchange alternative to companies and individuals who want leading-edge productivity tools that can be sync'd on the go through wireless technology. The GetSecure feature is an add-on to Kerio Connect's popular syncing solution that offers powerful Anti-Spam and Antivirus features to the offering. It provides several robust functions, including: admin and user-level quarantine management, comprehensive search and reporting, and end user summaries. Decide how aggressive you want to be with fine level control on the user-friendly dashboard.
Free Protection from Spam and Viruses…
When asked why the GetSecure product was being offered free of charge, Kevin Davy, Co-Founder and CEO of GetSync'd and Mike Schaffner, CTO of the company agreed that while GetSync'd was already very competitive, they felt it was important to show their customers the company's commitment to value. The company's research found that offering GetSecure free of charge was the best way to save clients money and provide even more value by addressing their concerns about spam and virus attacks.
Kevin, Mike, and the rest of their team recently strategized on the best way to provide even more value to clients and looked for ways to lower their customers' costs. Kevin says, "While GetSync'd pricing is already very competitive, we feel adding GetSecure puts us head and shoulders above our competitors that are out there hosting email and this move shows our clients we understand their needs for advanced technology tools at very aggressive pricing."
"User Friendly and Advanced Functionality"
As Chief Technology Officer, one of Mike' Schaffner's objectives is to continually supply tools that are as user-friendly and as functional as possible, "When deciding on adding the GetSecure] service, we wanted to make sure that the amount of effort needed to implement the services was as easy as possible for our customers. All the customer needs to do is change their MX records to point to the filtering servers and they'll know that they are safe from the spammers attacking their mailbox."
About GetSync'd.Com
GetSync'd.Com is a certified, preferred Kerio partner. GetSync'd was co-founded in 2001 by Kevin Davy, the company's CEO and Scott Bowen, President and COO. The company, located in North Carolina and with offices in California, serves small and medium-sized businesses on a global basis.

For more information about GetSync'd: click here.
To learn more about GetSecure: click here
Those interested in a free trial can register here.
For inquiries, contact (888) 447-9623 or marketing(at)getsyncd(dot)com. Follow GetSync'd on Twitter to get GetSync'd and Kerio news and updates.
###