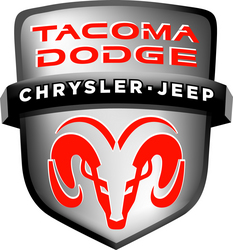 "Our stellar sales performance is a tribute to our entire team and shows the overall strength of having all of the Dodge, Chrysler, Jeep and Ram brands under one roof in Tacoma. While a majority of our sales come from the surrounding area, I was very ple
Tacoma, WA (PRWEB) July 18, 2010
In only their first sixth full month of business, Tacoma Dodge Chrysler Jeep Ram earns top sales honors in the State of Washington, Pacific Northwest and the U.S.A. The June sales results ranked the dealership #1 in the state of Washington, #2 in the Pacific Northwest and #14 in the entire West Business Center, which includes seven Western states (CA, AZ, NV, OR, WA, ID, AK).
"Our stellar sales performance is a tribute to our entire team and shows the overall strength of having all of the Dodge, Chrysler, Jeep and Ram brands under one roof in Tacoma. While a majority of our sales come from the surrounding area, I was very pleased to see the number of customers that purchased from us via the internet that live outside the area," states Phil Bivens, owner of Tacoma Dodge Chrysler Jeep Ram.
Bivens and his management team have pulled together a superior staff consisting of over 60 employees. Tacoma Dodge Chrysler Jeep Ram was also awarded the "Gold Level" for Chrysler's Dealer Standards Certification in the first quarter of 2010.
Phil Bivens, who lives in Northeast Tacoma, also owns Auburn Chevrolet, Enumclaw Chrysler Jeep Dodge and a General Motors Accessory Distributorship that has exclusive GM distribution rights to nearly 170 GM dealers in the Northwest. Phil's wife, Kerry Bivens, owns and/or operates Toyota of Puyallup, Scion of Puyallup and Kia of Puyallup.
Together, the organization employs 325 people and will sell in excess of 8,000 new and pre-owned vehicles in 2010 across ten franchises at five different locations.
Tacoma Dodge Chrysler Jeep is located at 4101 S. Tacoma Way, Tacoma, WA 98409. Phone: 253-475-7300 or Tacoma Dodge.
# # #