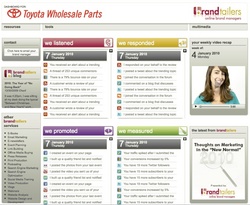 We've seen the ROI on most traditional media decline to the point of irrelevance.
Irvine, CA (PRWEB) July 19, 2010
Brandtailers today announced a new product to manage a company's online brand. The patent-pending Online Brand Management Program listens, responds, promotes and measures brands in the online world. Beta testers agree it is a strong replacement for traditional advertising and marketing.
"Our agency has been in advertising and marketing for 20 years, long enough to see 24k dial up modems give way to Terabytes and Cloud Servers," said Cheril Hendry, CEO of Brandtailers. "We've also seen the ROI of most traditional media decline to the point of irrelevance. A good online program, heavily focused on brand management, is where the market is going. With this product, we'll get our clients there first."
Adria Higginson, Brandtailers Director of Operations, described their Online Brand Management program as a tool that goes beyond common Social Media and Online Reputation Management products. "There are lots of agencies touting their expertise in Twitter, Facebook, and customer review management," she said, "but that's only a small piece of our program. To truly replace offline marketing with successful online branding, it takes more. A lot more."
Hendry said she spent the last few years watching businesses struggle with online advertising and marketing products they didn't understand, much less want to take time using. She knew there was a need not only for a full-service program, but also a full-service person that could manage the program for the client. "Our product is a success because it includes state-of-the-art technology and a highly skilled Online Brand Manager."
Each Online Brand Manager spends two weeks in-house with a new client to understand their business operations and capture their corporate culture. In addition to this training, the OBM (Online Brand Manager) is often paired with industries they're very familiar with. For example, Celine Bunagan, one of Brandtailers Online Brand Managers, has extensive experience with luxury automotive marketing. She said, "Two weeks into the program's beta test, I helped a luxury dealer sell an Audi A4 through Twitter. That was pretty fun."
All of Brandtailers clients involved with the beta-test the said they especially liked the personalized Dashboard that comes with the program. Katherine Topping, Brandtailers Online Brand Management Supervisor, said, "The Dashboard is a live, moment by moment summary of our listening, responding, promoting and measuring efforts on behalf of the client. It's all they need to know what's going on." She explained that clients have live access not only to what's happening on line, but direct connection to their Online Brand Manager as well. Topping said, "We even have a weekly two minute video summary for executives who are extremely time-limited but still want to stay informed."
Hendry is clear to point out this product is not for every business. She states it is primarily designed for medium sized companies that know they need an online marketing and brand management program, but for whatever reason they don't want to bring it in-house.
For additional information on Brandtailers Online Brand Management Program contact Cheril Hendry or visit http://www.onlinebrandmanagers.com
About Brandtailers:
Brandtailers is a full-service digital and traditional marketing agency with twenty years of expertise in the retail, financial, educational, automotive and real estate industries. Based in Southern California, they have been recognized as Orange County's top digital marketing agency for the past three years. They work with local, regional and national brands within the United States and Canada.
# # #