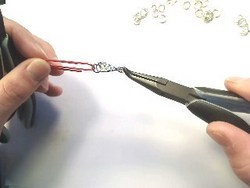 I want to help other designers and crafters realize the versatility of the chain.
Palo Alto, CA (PRWEB) July 19, 2010
Elena Adams Designs has launched a free series of videos that will guide jewelry lovers to making their own chain maille creations. Chain maille has become a major feature among top design houses, embracing the tough-luxe look of 2010, and now Elena Adams brings nearly a decade of chain-making experience to teach her refined take on this art.
Chain maille is a technique of linking rings together into weaves, traditionally to create sheets of armor. In recent years, it has found greater popularity in the jewelry industry. The accessibility of online learning and teaching has created an abundance of resources for willing learners. This series goes beyond learning the basics and looks to fuse technique with design instruction.
After years of teaching, Adams found that for many jewelry techniques, students were most comfortable following a printed step, checking their work, and then looking for the next step. However, when it came to chain maille, students learned at a significantly faster rate when they could see a complete demonstration of the steps. A high level of spatial reasoning is required for chain making, and static images and instructions do not help students get over the visualization hurdle.
Beading magazines tend to focus on patterns, creating "recipe books" of designs. They simply provide the ingredients for a project along with the necessary steps for copying the piece. After working in a popular beading store, Adams discovered that people who were frequent readers of these magazines had tremendous trouble deviating from the patterns.
"If a customer could not find a matching bead, she would panic that the whole project was doomed. Getting students to understand how to modify and adjust patterns is a skill set that beading magazines neglect".
Instead of simply providing the same "copy along" experience, Adams tries to demonstrate the thought process behind designing, along with the techniques. By discussing what leads to a decision to adjust the design as it is being built, Adams hopes viewers will be left with more confidence and flexibility, leading to a better understanding of the medium.
"When I started learning, I was instantly drawn to chain maille, but I had trouble seeing beyond strands of chain. It took a long time to learn to integrate other materials and techniques to move it away from looking like a machine could have made it. I want to help other designers and crafters realize the versatility of the chain."
Adams takes the stance that all learning is easier when you modify something already known. Part of teaching viewers to be flexible is showing them how weaves are related to one another. By making simple changes to techniques they are already confident with, they can quickly pick up new concepts rather than learning each from scratch.
Adams' line of finished jewelry is available at http://www.elena-adams.com. Another factor in creating the series was helping customers engage with the creation process. By seeing the care and effort that goes into each piece of jewelry, they are able to better understand its value, making them more informed shoppers.
The series of free video tutorials is available at http://www.elena-adams.com/info/how-to-make-chain-maille.html with a new installment available each month.
About Elena Adams Designs:
Elena Adams believes that timeless jewelry should be a part of every woman's collection, and has been creating jewelry for nearly ten years. Specializing in chain maille, she strives to maintain the classic appeal of this ancient technique, while updating it for the modern woman, using gemstones and sterling silver to create richly feminine treasures that will last a lifetime.
# # #