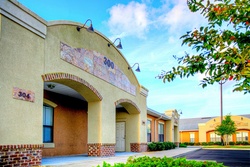 Cenegenics Jacksonville offers a unique, comprehensive program to help people live a healthier life to the highest level possible.
Las Vegas, NV (PRWEB) July 19, 2010
Global leader Cenegenics® Medical Institute and Jacksonville, Florida's Earl Eye, MD—previously a Cenegenics physician affiliate—partnered to meet the area's demand for healthy aging therapies. Cenegenics Jacksonville, a progressive-edge age management medicine center offers patients evidence-based protocols with a proactive approach for optimized health. With its official July 19 opening, Cenegenics Jacksonville joined the ranks of several other new centers the age-management giant launched in health-conscious metropolitan areas in 2009-2010.
Jacksonville's moderate climate, Floridan lifestyle and numerous recreational activities create the right environment for the new, upscale Cenegenics center, which reflects the global leader's renowned 180-degree shift from traditional medicine's disease-focused mindset to a health-centered approach to reduce age- and lifestyle-related diseases.
"In my 34 years of practicing medicine in Jacksonville, I became certified in multiple specialties, which proved an eye-opening experience to what happens when patients aren't proactive with their health and are only given conventional, reactive medicine options. Cenegenics Jacksonville offers a unique, comprehensive program to help people live a healthier life to the highest level possible," Eye said.
The sleek, contemporary Cenegenics Jacksonville center is conveniently located on 9A and Gate Parkway at 11512 Lake Mead Avenue. The center creates an inviting ambiance with its neutral tones, leather furnishings and colorful artwork.
As with most Cenegenics centers, the Jacksonville practice has an open reception area/lobby, physician offices, a nutrition-exercise counselor area, an exam room equipped with leading-edge diagnostics and a private VIP room where patients can relax during the extensive evaluation day process.
"In my affiliate practice, patients experienced successful outcomes with the Cenegenics approach. We're committed to keeping Cenegenics Jacksonville a center of medical excellence—which we believe will continue to grow in the years ahead as we help people stay fitter, healthier, more energetic, more productive and more vibrant as they enjoy their golden years," Eye said.  
For more information about Cenegenics, please visit http://www.cenegenics.com. Register for quick access to the informative Guide to Healthy Aging, Executive Summary and media excerpts. To schedule an interview, please contact Ann Castro, Cenegenics Director of Media Relations: 702.953.1588.
About Earl Eye, MD
Dr. Earl Eye earned his medical degree from the West Virginia University School of Medicine, graduating Magna Cum Laude. He completed internships at Montefiore Hospital (Pittsburgh, PA) and a residency at the University of Florida-Shands Hospital (Jacksonville, FL), followed by Infectious Diseases, Pulmonary Diseases and Critical Care Fellowships. For the past 34 years, he was the senior partner at the Clinic for Pulmonary and Infectious Diseases. He also was an associate professor at the University of Florida-Shands Hospital, chairman of the Infectious Disease Committee at Jacksonville's Methodist Hospital and director of the Wesley Manor Nursing Home's Intensive Care Unit. Dr. Eye served in the National Guard as Unit Physician, from 1970 to 1976. In 2004, after training/certification in age management medicine, he became a Cenegenics® Medical Institute physician affiliate. In 2010, Dr. Eye partnered with Cenegenics to found the Cenegenics Jacksonville center. Dr. Eye is a frequent lecturer on preventive medicine, author of several published articles on healthy aging practices and recipient of the 2007, 2008 and 2009 awards for Jacksonville Magazine's Top Doctors.
About Cenegenics
Cenegenics® Medical Institute, recognized leading authority in age management medicine, has centers in Las Vegas, Nevada; Charleston, South Carolina; Boca Raton, Florida; Dallas/Fort Worth, Texas; Atlanta, Georgia; Chicago, Illinois; Los Angeles, California; Philadelphia, Pennsylvania; Washington, DC; New York City, NY; Tulsa, OK; Jacksonville, FL. Additional centers are scheduled to open in other major metropolitan areas in the near future. With an established presence in the medical community, Cenegenics uses a proactive approach based on solid science and comprehensive evaluation. Their established protocols have been recognized as the next generation of medical science, capturing global attention. Cenegenics offers CME-accredited physician training and certification opportunities in age management medicine via the nonprofit Cenegenics Education and Research Foundation (CERF). Headquartered in Las Vegas, Cenegenics serves more than 20,000 patients worldwide—2,000 are physicians and their families.
###