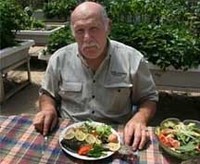 Murray has impressed me as being THE person that had the true knowledge of Aquaponics.
Boulder, CO (PRWEB) July 29, 2010
The Aquaponic Source, Farming With Fish Aquaponics, and The Denver Botanic Gardens are thrilled to announce 2 "Aquaponics Made Easy" workshops September 18th and 19th, 2010 with Murray Hallam, the star of "Aquaponics Made Easy" and the newly released "Aquaponic Secrets" videos, and the president of Practical Aquaponics in Queensland, Australia. Murray Hallam is without a doubt one of the most highly regarded authorities on aquaponics in the world and these workshops mark the first time that an Australian expert has travelled to the U.S. to teach.
The September 18th event is sponsored by Farming With Fish Aquaponics. The class will be held at Immanuel Lutheran Church, 1900 South Nevada St., Oceanside, California. The September 19th event is sponsored by The Aquaponic Source and the Denver Botanic Gardens. The class will be held at the Denver Botanic Gardens, 1007 York Street Denver, Colorado.
Aquaponic gardening is a unique, synergistic gardening method in which fish and plants are grown together. The fish waste feeds the plants using organic hydroponic techniques. The plants, in turn, clean and filter the water that returns to the fish environment. Aquaponics uses less than 10% of the water of traditional soil based growing methods and sustainably produces food that is 100% organic, with no pesticides or mercury. The system waters and fertilizes itself, is free of weeds, and can be set up at waist height so most of the mundane chores and back pain associated with conventional gardening are eliminated. In an aquaponics system, nutrient rich water is seen as an asset instead of waste and is utilized to grow useful plants. The plants help the fish and the fish help the plants. Aquaponics is the most water efficient agriculture known, and there are near zero environmental impacts.
Participants in these workshops will learn:

Both the theory and practice of Aquaponics.
How to understand and manage their own Aquaponics system.
A brief history of Aquaponics and how it addresses today's water scarcity and localized food production concerns.
Important considerations when building or procuring their own home systems.
The plants and fish that can be successfully grown in an Aquaponics systems.
System management, water quality, plant health, pest control, and the nitrogen cycle.
Special considerations for indoor and winter growing.
Hand out lecture notes to take home.
To register for the September 18th event in Oceanside, California go to Farming with Fish
To register for the September 19th event in Denver, Colorado go to The Aquaponic Source, Inc
To learn more about Murray Hallam and Practical Aquaponics go to Practical Aquaponics
# # #