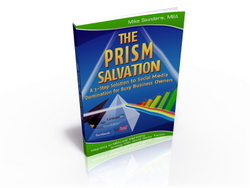 "I have been following Mike Saunders for some time and his best work is in his newly released book. This is a must read and I rate it as one of the best and most useful that I've read. Ken Freeman: SBDC-Yuba Executive Director
Denver, CO (PRWEB) July 19, 2010
Small Business owners are getting confused from all of the buzz about social media, and are worried that learning how to use social media would be too complicated or time consuming or just wouldn't work in their business.
Through a beautifully written, engaging, story about someone struggling with his desire to break free from the 9-5 grind, readers will discover resources and strategies, they may have never realized existed, to succeed in implementing a social media marketing strategy in their business.
Follow the journey that the character, Andy Stubbs, embarks on as he grows from a frustrated employee learning how to start his own business. He discovers how the meaning of P.R.I.S.M, "Powerful Relationships Integrating Social Media", and an MBA-level marketing strategy, become the salvation to his business...with even less time and effort than he ever imagined!
The book presents powerful social media strategic solutions delivered by a consultant with the local Small Business Development Center. (SBDC) It is through this resource, that he is able to achieve his business goals.
This is a powerful book for business owners to learn social media marketing, but it quickly has become relevant in another important area a well. One of the struggles of the Small Business Development Center (SBDC), which is a division of the SBA, is that there is a need to make local business owners more aware of their services. This book dramatically increases the awareness of the services that the SBDC offers to local business owners.
FREE Facebook marketing bonus package ($77 value) including:
1. Facebook Marketing Video
2. Facebook E-book
3. Facebook Tips 24"x36" Wall Poster
Go to:http://www.ThePrismSalvation.com and click on the Amazon logo to purchase a copy of the book by midnight July 30th, 2010 and then enter the Amazon receipt # at the "social media for business" link below, to claim a Free Facebook bonus package.
Social Media for Business
To contact the author to learn how this book can help a local SBDC increase awareness and fundraising through a unique, free promotion package, visit: http://www.MarketingHuddle.com/contact
Mike Saunders holds an MBA in Marketing and helps small business owners increase sales using social media and online marketing. In addition to coaching and consulting clients in his firm Marketing Huddle LLC, Mike enjoys teaching Marketing as an Adjunct Marketing Professor at select Colleges and Universities. Mike also is a Marketing Consultant with the Denver Small Business Development Center (SBDC).
By visiting http://www.The PrismSalvation.com readers may download "The Social Media Dashboard" for Free which gives 1-click access to simplify social media marketing.
###