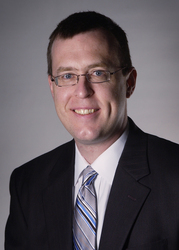 Michael Halicki is an outstanding addition to the Southface management team. With his broad range of work in energy and environmental issues and his extensive nonprofit management experience, he'll make immediate contributions."
Norcross, GA (PRWEB) July 19, 2010
Southface is pleased to announce that Michael Halicki will join the organization next month as the organization's first chief operating officer. Mr. Halicki, a respected public policy and communications strategist, comes to Southface from the Atlanta-based public affairs consulting firm Ahmann, Inc. where his roster of current and past clients includes the Atlanta Regional Commission, the Energy Foundation, the Georgia Department of Natural Resources, Georgia Institute of Technology, Livable Communities Coalition, Mothers & Others for Clean Air and the Transit Planning Board.
Prior to Ahmann, Mr. Halicki held senior leadership roles for two Georgia-based environmental nonprofits, the Clean Air Campaign and the Georgia Conservancy. He holds a graduate degree in nonprofit management from Georgia State's Andrew Young School of Policy Studies and an undergraduate degree from Indiana University. Mr. Halicki is also a graduate of the Regional Leadership Institute, a leadership program designed to prepare metro Atlanta's leaders for the specific challenges facing the region. In 2006, he was selected by the Atlanta Business Chronicle as one of 40 "Up and Comers" under the age of 40.
The chief operating officer, a newly created position at Southface, reports to the organization's executive director, Dennis Creech. The position is charged with providing the executive director and the organization's senior management team with best-in-class management practices and operational support as they pursue an ambitious new set of sustainability, green building, and energy-efficiency initiatives.
"Michael is an outstanding addition to the Southface management team," said Dennis Creech, executive director of Southface. "With his broad range of work in energy and environmental issues, his extensive nonprofit management experience and reputation for completing tough assignments, Michael will make immediate contributions to Southface's daily operations and business processes."
Southface Gains Significant Momentum
Southface, the Southeast's nonprofit leader in the promotion of sustainable homes, workplaces and communities, has experienced rapid growth over the past two years, driven both by stimulus funds and market forces. The organization's base of support has grown by approximately one and a half million dollars and its staff has nearly doubled, totaling 70 full time and part time staff and an annual budget of approximately five million dollars. The Southface staff includes an impressive roster of building scientists, engineers, architects, construction industry professionals and educators all dedicated to Southface's vision of a more energy-efficient and sustainable future.
To accommodate this growth and to respond to rising interest in clean energy solutions, recent promotions and additions have been made to Southface's senior management team, which now includes:
§ Laura Capps, Director of Residential Green Building Services
§ Michael Halicki, Chief Operating Officer
§ Angie Hunter, Director of Development
§ Brandon Jones, Director of Commercial Building Services
§ Gray Kelly, Director of Sustainable Development and Communities
§ Judy Knight, Director of Marketing and Public Relations
§ Robert Reed, Director of Sustainable Communities Design
§ Dr. Sydney Roberts, Director of Southface Home Services
In addition, Southface has invested extensively in both classroom and online education programs to address the burgeoning demand for green building skills and knowledge. Certification-based training for green jobs in energy efficiency, a new website with a searchable online library and an Online Tour of the Southface Eco Office provide additional valuable learning resources.
Meeting the Needs of Policymakers and Construction Industry Professionals
In response to increased demand from policymakers, design and construction professionals, and consumers, Southface has also:
§ Made available extensive building performance data from its award-winning LEED® Platinum Eco Office to the building research community for the purpose of studying next generation green building techniques and approaches.
§ Implemented a Southeast Weatherization and Energy Efficiency Training (SWEET) Center which in the last six months has trained more than 500 individuals for green jobs in home weatherization, green building and energy auditing.
§ Launched a Green and Healthy Schools initiative to assist Georgia schools to cut their energy and water costs and enhance their indoor air quality.
About Southface
Southface is a nonprofit organization that for more than 30 years has promoted energy-, water- and resource-efficient workplaces, homes and communities throughout the Southeast. Driven by the region's growing need to save energy and water, and preserve our natural resources, Southface has successfully fostered unique sustainability partnerships with business, government and nonprofit organizations. Southface's educational programs, research and technical assistance reach design and construction professionals, building owners, homeowners, government officials and others. For more information, please visit Southface at http://www.southface.org.
###